Bates to stage Ted Hughes adaptation of Euripides' 'Alcestis'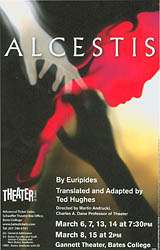 Martin Andrucki, Charles A. Dana Professor of Theater, directs the Bates College theater department production of Alcestis, Euripides' tragedy about a king, doomed to die, who offers up his wife in his place.
First produced in Athens in 438 B.C., Alcestis is the oldest surviving work by the Greek playwright Euripides. The play follows the death of Alcestis, sacrificed by her husband and brought back from the dead by Hercules. The Bates cast performs a shortened version of the translation-adaptation of the play created by noted British poet Ted Hughes in 1999.
Friday, March 6 & 13 and Saturday, March 7 & 14, at 7:30 p.m.; Sunday, March 8 & 15, at 2 p.m.
Gannett Theater, Pettigrew Hall, 305 College St.
Admission is $6 general admission and $3 for Bates faculty and staff, senior citizens and non-Bates students.
View Comments