Known as a center for dance, Bates leaps forward with creation of dance major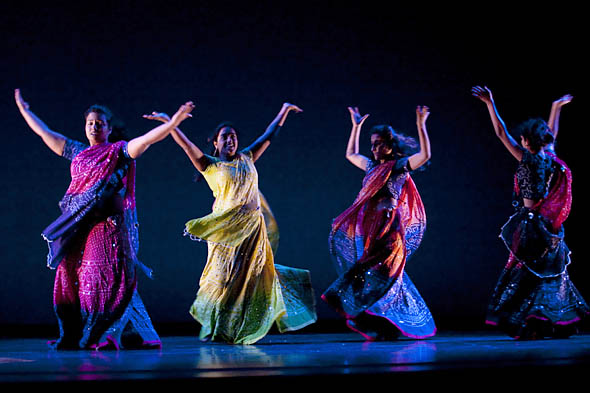 Home of both the renowned Bates Dance Festival and a well-regarded academic-year dance program, Bates College this fall will begin to offer Maine's first major focused solely on dance.
A March 7 vote of the Bates faculty established the major. It's the college's first new major since 1997, when Chinese, Japanese and neuroscience were added.
Coming as Bates is increasing its emphasis on the role of the arts in a liberal arts education, the major sets the capstone on the college's longstanding dance presence on campus, in the curriculum and in the community.
Click the thumbnails below to view a slide show.
"For anyone who loves dance and has experienced it in a Bates audience, or as a vital part of their Bates education, this vote is a source of great satisfaction," says associate professor Carol Dilley, who has directed the academic dance program since 2003 and made the creation of the major a top priority. The college has offered a minor in dance since 2007.
The Bates program is known for popular performances by the Bates Modern Dance Company and guests; frequent collaborations with community dance groups; and a strong roster of visiting choreographers.
"I've been dancing my whole life, but the education I've received from the Bates program has shown me a whole new way of learning, creating, performing and perceiving dance," says Bridgette Chandhoke, a first-year student from Fairfax, Va., who will major in dance. "The dance students are all ecstatic about the creation of the major."
Unique requirement
Among requirements for the major is the unique stipulation that students attend at least one three-week professional education program at the Bates Dance Festival, a summer series acclaimed for both its educational and performance components.
This requirement gives students an immersion with top professional dance makers from around the world and exposure to the BDF's performance series, adding serious muscle to an already strong curriculum. By coupling the requirement with the credential of a degree in dance, Bates becomes even more attractive to highly dedicated and accomplished students planning a career in dance.
"The major will strengthen the connection between the festival and dance program and hopefully provide new opportunities to further develop mutually beneficial activities," says festival director Laura Faure. "We hope many current doors will open more widely — for example, our recent history of bringing acclaimed dance artists to work with students and faculty year-round and across the whole curriculum."
Long history of dance
Dance at Bates dates back to the 1930s, but the current program took shape under retired director Marcy Plavin, who came to Bates in 1965. Plavin's remarkable legacy includes the creation of the Modern Dance Company; the 29-year-old dance festival; robust visiting programs in local schools; and generations of devoted alumni — some of whom, like choreographer John Carrafa and dance historian Suzanne Carbonneau, are major names in the national dance scene.
The creation of the major "is wonderful," says Plavin, who retired in 2005. Dance at Bates has "evolved, and this is the right time for what happened." (An April 29-May 1 reunion of Bates dance alumni will honor the lives and contributions of Plavin and her late husband, Leonard, a photographer who created a vast archive of Bates College Modern Dance Company images.)
In terms of courses, facilities and faculty, "we have really had all the parts" for the major, says Jill Reich, dean of the faculty and vice president for academic affairs. "What the new major does is pull them together into a major field of study that allows us to capitalize on our strengths in new ways.
"Establishing the major has been a natural progression of many years and of many people creating dance at Bates. This is a very exciting and important step for us all."
Dance in academe
As a field of study, dance is unique in its fusion of concept, aesthetics and physicality. "The processes of enacting and analyzing dance, as both art and scholarship, already shape the focus of the dance education that Bates students get," says Rachel Boggia, visiting assistant professor of dance. "This will only deepen with the advent of the major."
Elevating dance to the status of a major reflects a number of institutional priorities, adds Kirk Read, associate professor of French and chair of the Bates Arts Collaborative, a group charged with advancing the arts at the college.
"Dance has been a key locus for diversity," he says, with both the festival and the academic program hosting performers and choreographers representing myriad peoples, regions and cultural traditions. The program is similarly collaborative and interdisciplinary, touching fields across the curriculum from African American studies to writing.
The major, too, gives a giant boost to the college's efforts to illuminate its arts programming, a component in Bates President Elaine Tuttle Hansen's "Choices for Bates" strategic initiative. "The faculty's confidence in the major indicates plainly that the arts are flourishing at Bates," says Read.
A small and select group of schools
The new major places Bates within a small group of colleges and universities. Of the nation's approximately 4,200 colleges and universities, some 290 have the major.
According to The College Board website, 23 other colleges or universities in New England offer some form of a dance major. Among Maine schools, Bowdoin offers a minor in dance, and Colby has a combined theater and dance major.
"Nationally, dance programs are going one of two ways," says Michael Foley, a member of the Bates class of 1989 and an associate professor of dance at the University of South Florida. "They are either being downsized or cut altogether because they are perceived as expendable by institutions going through a budget crisis, or else they are expanding beyond belief.
"Students seem to be flocking to the dance major in droves," Foley says. "I think it's partially due to dance's universal appeal as a creative and disciplined art form, as well as its resurgent popularity in our culture."