Dance alumni honor program's founder and its longtime photographer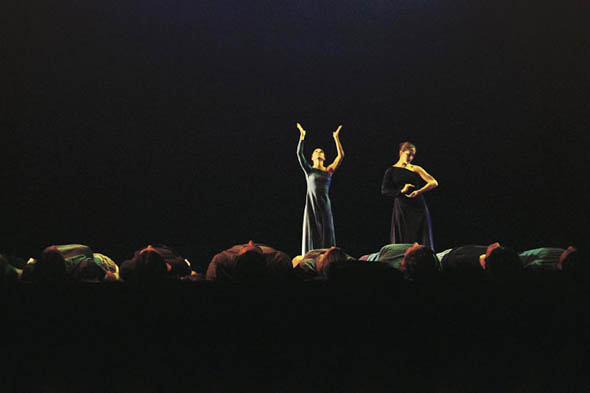 Decades of dance at Bates College will come to life on stage again Saturday, April 30, as nearly 90 dance alumni perform a piece based on images by the late dance photographer Leonard Plavin.
The dance "A Moment in Focus: Dance Images by Leonard Plavin," commemorating the passion and achievement of a photographer who shot some 10,000 images of the Bates College Modern Dance Company, concludes an alumni reunion dance performance beginning at 8 p.m. in Schaeffer Theatre, 305 College St.
Choreographed around projections of images by Plavin, and set to jazz music that he loved, the piece will constitute both a tribute to the photographer and a dynamic history of the dance program created by Leonard's wife, Marcy Plavin.
Also featuring the current Bates College Modern Dance Company, the concert is open to the public at no cost. Seating is first-come, first-seated. For more information, please call 207-786-6487.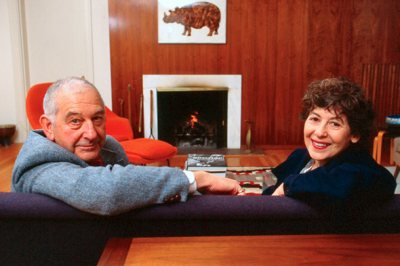 The concert is the capstone in a three-day reunion of Bates dance alumni, resuming a tradition of gatherings put on hiatus by Leonard's illness and passing in April 2010. "There was a pent-up demand to get back together," says Dervilla McCann, a cardiologist who practices in Auburn, member of the Bates class of 1977 and former MDC performer. "We said, 'Let's do it again, and let's make it about Leonard's work.' "
In "A Moment in Focus," she says, "we'll be able to see the depth and breadth of what Leonard was able to capture. But it will also present, in a way, the history of the dance program. It will have this amazing resonance."
Works in the first half of the concert include: "Amazing Grace," choreographed by Kim Kavazanjian, class of 2004, and performed by alumni;
The dance video "Jill and Jack," directed by Carrie Noel Richer, class of 2001; and a section of Richer's dance thesis, "Swelling Dialogues," performed by alumni;
and "We're Back!" — a work choreographed by Lynda Plavin Fitzgerald and performed by the current MDC. The daughter of Marcy and Leonard, Fitzgerald is coordinator of the dance program at Anne Arundel Community College.
The piece is "great for the reunion because it combines smart humor with full-bodied dancing. Audiences love it!" says Rachel Boggia, visiting assistant professor of dance and the acting director while the permanent director, Associate Professor of Dance Carol Dilley, is on sabbatical.
---
The Plavins, profiled in the Winter 1999 Bates Magazine.
---
McCann conceived of "A Moment in Focus." The piece is composed of a series of life-size projections against which the alumni dancers will move and ultimately coalesce into tableaux matching the images. Dating back to the 1970s, the images represent 50 different dances choreographed by Marcy, students and guests, and performed by successive generations of the MDC.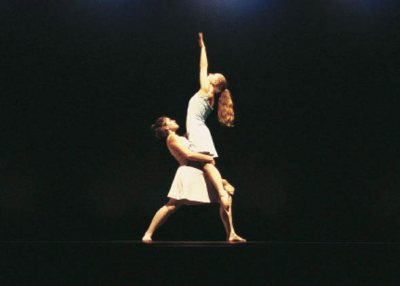 From the MDC's founding in 1969 until 2004, Leonard dedicated countless hours of his free time to shooting Bates dance. "To take these photographs, he had to know the dances," says McCann. "He was able to set up his shots because he knew what the piece was going to look like, and he knew where to be."
Coming from as far away as California and London, some 130 alumni will attend the reunion. In pulling the gathering together, Marcy and McCann have tried to contact every Bates alum who danced on the Schaeffer stage. For the alumni who can attend, the weekend will afford a chance to renew old friendships and make new ones.
Even with MDC veterans she doesn't know, says McCann, "there's this immediate understanding of who we are in relationship to each other."
Coming to Bates in 1965 and retiring 40 years later, Marcy created the current dance program and introduced hundreds of Bates students to the discipline of dance.
When Marcy's successor, Carol Dilley, first saw the job description for the director of dance, she says, "the range of responsibilities and opportunities looked logistically impossible. But Marcy already had it down to a science."
With the establishment in March of a dance major — Maine's first focused solely on dance — "it's an auspicious moment to bring so many generations of dance alums together to celebrate both the dynamic past and the exciting new future for dance at Bates," says Dilley.
The Bates dance program is known for performances by the MDC and guests; frequent collaborations with community dance groups; and a strong roster of visiting choreographers. In addition to launching the MDC, Marcy instituted visiting programs in local schools and founded the world-renowned Bates Dance Festival.
Former students include choreographer John Carrafa and dance historian Suzanne Carbonneau, both major names in dance. "It's impossible to underestimate the impact that Marcy has had on the national dance scene," says Michael Foley, a member of the Bates class of 1989 and an associate professor of dance at the University of South Florida.
"She literally sent hundreds of dancers out into the world with the Bates name attached to them."
View Comments