Bates College Choir to perform works by Mozart and Fauré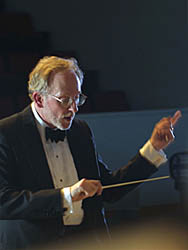 Directed by John Corrie, the Bates College Choir performs Wolfgang Amadeus Mozart's "Coronation Mass" and Gabriel Fauré's "Requiem" in concerts at 8 p.m. Friday and Sunday, March 27 and 29, in the Olin Arts Center Concert Hall, 75 Russell St.
Admission is free, but tickets are required. For more information, please contact 207-786-6135 or olinarts@bates.edu.
Corrie is the artistic director of the Maine Music Society and a member of the college music faculty. He has directed the Bates choir since 1986.
The college choir has 75 singers, supported by an orchestra of 31 musicians. Soloists include senior sopranos Lisa McClellan of Glen Mills, Pa., and Erica Rogoff of Carlisle, Mass.; sophomore alto Erin Kintzing of Rensselaer, N.Y.; first-year tenor Segundo Guerrero of East Orange, N.J.; and three bass soloists: senior D.R. Richie of Wyomissing, Pa.; junior Richard McNeil of Lawrence, Mass.; and sophomore Andrew Bernard of Merchantville, N.J.
He chose the Fauré and Mozart, Corrie says, "because they are among the masterworks that the choir should have the opportunity to perform. These works begin an exploration of the musical vocabulary of these incredible composers."
The college choir has performed these works in the past, and Corrie calls them "important enough to revisit on a regular basis."
"Requiem" is the best-known of Fauré's larger-format works. Composed between 1887 and 1890, it was first performed in the U.S. in 1931 at a student concert, and was performed at Fauré's own funeral.
"Everything I managed to entertain by way of religious illusion I put into my Requiem," the composer said, "which moreover is dominated from beginning to end by a very human feeling of faith in eternal rest."
Mozart's "Coronation Mass," composed in 1779, is one of the most popular 17 extant settings of the Ordinary of the Mass, texts in Roman Catholic practice that are used without variation in every Mass. The piece was performed at the coronations of Leopold II and Francis II of Austria.
View Comments