Bates president receives alumnae honor as 'outstanding educator'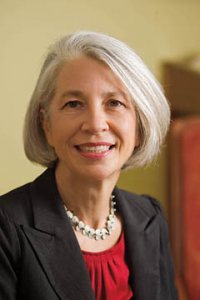 Bates College President Elaine Tuttle Hansen has been honored as an outstanding alumna educator by the Mount Holyoke College Alumnae Association.
Hansen, a 1969 graduate of Mount Holyoke, has been Bates president since 2002.
In receiving the alumnae association's Elizabeth Topham Kennan Award during the college's alumnae reunion in May, Hansen was praised for her "respect for teaching and working with students" and her "administrative prowess and deep love of the liberal arts."
Those talents and attitudes, noted the award citation, "combine to make you a strong president."
The award citation said that Hansen's "colleagues have called you 'an exceptionally capable leader and administrator' and laud your 'combination of intellectual leadership, vision for the college, and managerial acumen.' Yet they also note your open and enthusiastic style, which has helped you forge strong working relationships with trustees, faculty, staff, and students."
Hansen was lauded for leading Bates through a successful fundraising campaign, supervising development of a Campus Facilities Master Plan, initiating major construction projects and overseeing the implementation of Bates' new General Education curriculum and new interdisciplinary initiatives.
Completed in 2006, The Campaign for Bates: Endowing Our Values raised $121 million for endowed scholarships, faculty support and academic quality, as well as for annual giving, campus revitalization and new facilities. In 2008, Bates opened a new dining Commons, new residence hall, and Alumni Walk, a major new cross-campus walkway.
Mount Holyoke's Elizabeth Topham Kennan Award, presented periodically to an outstanding alumna educator, honors the service that Mount Holyoke President Emerita Elizabeth Topham Kennan gave to her college and to higher education. Joining Hansen as 2009 honorees were Anne Conger McCants, a member of the Mount Holyoke Class of 1984, and Nancy Ahlberg Mellor, a member of the Class of 1959.
The Kennan Award has been given only three other times since its 1995 establishment. Prior recipients are Elizabeth Topham Kennan '60 (1995), Elizabeth Wilson Poe '72 (2000) and Nancy R. Disenhaus '72 (2002).
"I'm so honored, and once again incredibly grateful to Mount Holyoke," Hansen said of the award. "Anything I have accomplished speaks largely to the transformative power of my liberal arts education at the nation's first and still best college for women."
The full citation will be available online in July 2009.
View Comments