Trashion Show 2009: Refuse reused, in the swankiest way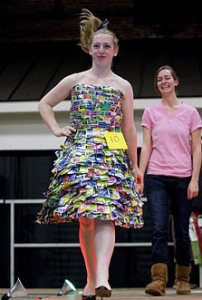 See a slide show of the 2009 Trashion Show.
By Kelly Cox '11
Strutting down a vibrantly illuminated runway to blaring music played by student DJs, Kathryn Moraros '10 modeled the winning creation: a 1950s-style cocktail dress layered with nonrecyclable tea bag packets.
Other ensembles gracing the Gray Cage runway on a mild November evening were fashioned from unused tents, discarded printer paper, cardboard boxes, aluminum cans and duct tape.
This was the fourth annual Trashion Show, held Nov. 18 following the Harvest Meal. Surrounded by desserts, the Bates community gathered to witness the year's most stylish "green" event, a fashion show that raises awareness of the trash we produce and the recycling initiatives aimed at minimizing it.
The event affords an acceptable excuse for digging through garbage bins, as students create wearable art using only recycled, reused or found materials. It's one of numerous efforts illustrating a commitment to sustainability that has earned Bates high rankings on a variety of "green college" lists.
The Sustainable Bates program collaborates with Bates Dining Services, a national leader in sustainability, to produce this fun fashion event. Starting out in 2006 as a small, barely noticed event in a corner of old Commons, the Trashion Show is now a highlight of the fall schedule.
"The Trashion Show has become a capstone event for the Harvest Meal, incorporating Bates' aims to divert waste, decrease our carbon footprint and move toward energy efficiency," said Christine Schwartz, director of Dining Services.
The event is produced by the Bates EcoReps, students who work for the college environmental coordinator, Julie Rosenbach. This year, their task has been to influence peers through social avenues to raise waste awareness.
"The show is meant to send a message about consumption while being enjoyable to watch," noted EcoRep Hannah Porst, a junior. A Spanish and studio art double major, Porst took part in several EcoRep activities throughout the year, such as the Waste Audit, a public display of materials found in campus trash that could have been recycled.
Comprising faculty, staff and students, the panel of judges chose winning designers in several Trashion Show categories — most creative, most recycled content, most functional and most fashionable creation.
The overall winner, though, was the tea-packet dress designed by Margaret Koerber, a senior from New Orleans and a three-year veteran of the Trashion Show. Prepping for the show a few days prior, Koerber noted her affinity for the event. "It's an outlet for creativity, as well as to send an important message," she said, while skillfully taping together a cardboard-and-aluminum can skirt.
An English and theater double major, Koerber had procrastinated on her theatrical production-design thesis by gluing teabag packets from Commons into the winning entry. She collected more than 2,000 plastic packets with help from the Bates community. Her multicolored Trashion dress on the runway ultimately served as a vivid reminder of how "our system of living is structured to create waste," Koerber said.
A first-year student from Seattle, Ursula Sandstrom incorporated unused tents from the Bates Outing Club Equipment Room into her design. It also incorporated printer paper gathered from recycling bins at the Ladd Library, waste generated on a daily basis.
Sandstrom had recognized clothing's potential for making social statements at an early age, creating doll clothes out of recycled material. For the Trashion Show, "I attempted to make everything permanently wearable and streetworthy to show how materials can easily have a second, fully functional life," she explained post-show. "So much of what we put in the landfill still is functional."
View Comments