Life Lessons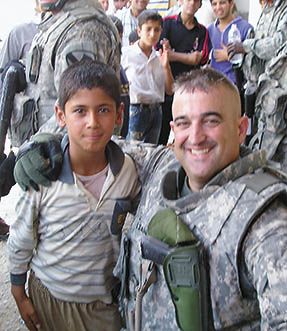 Army Lt. Col. Mark Leahey '86 poses with a young boy who had been following Leahey and other Army soldiers one morning during a foot patrol in a Kurdish neighborhood of Kirkuk City.
"The boy's name is Mahmood," Leahey writes in an e-mail to Bates Magazine. "He and his mother live with his uncle because his father was killed in a vehicle-born IED attack." The Kurdish children are always eager to follow and talk to the soldiers — English is mandatory second language in Kurdish schools. "No matter how hard we try to ask them to leave, so they would not be the victims of any kinetic actions, whenever we stopped they usually engulfed us."
Leahey is deployed to forward operating base Warrior, an Army logistical hub that's part of Kirkuk Airbase. This is his third combat tour as a tactical observer for the Center for Army Lessons Learned, and he's assigned to the Black Jacks of the 2nd Brigade Combat Team, 1st Cavalry Division. He reports back to military analysts on new TTPs — tactics, techniques, and procedures — used by coalition and anti-Iraq forces.
He keeps this piece of Army text taped to his daily planner: "The old saying 'live and learn' must be reversed in war, for there we 'learn and live,' otherwise we die. It is with this learning, in order to live, that the Army is so vitally concerned." The quote is from U.S. War Department Pamphlet No. 20-17, dated July 1945.
Leahey writes: "I am truly amazed at the 'Duty, Honor, Country' that these young soldiers display in their actions. As Army leaders, we must ensure that our soldiers have the best training and knowledge to help them stay alive. I know that I am making a difference as I reported back on an innovative crush wire IED defeat system developed by an engineer unit. The unit did not know how to disseminate their information without it becoming lost in the abyss that is the Army.
"I wrote an article on the defeat system and sent it back to CALL, which was quickly cross-disseminated to the engineer training center and also to the rest of the Iraq and Afghanistan areas of operations. Thus — hopefully — other units will employ the novel design and thus 'learn and live.'"
View Comments