Dance festival opens with Monica Bill Barnes and a Maine premiere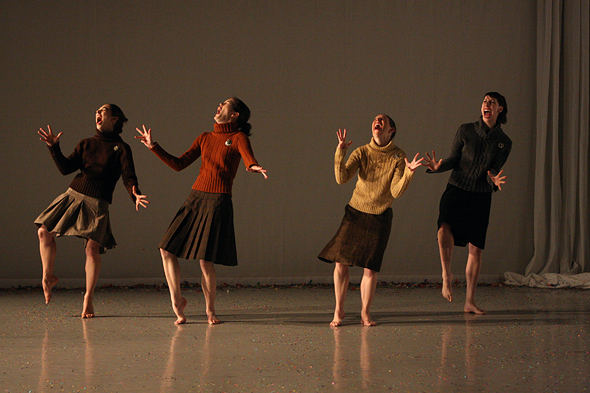 The Bates Dance Festival opens its 2010 season with the charming Monica Bill Barnes & Company, one of the funniest, most imaginative groups the New York dance scene has produced in years.
The performance takes place at 8 p.m. Saturday, July 10, at Bates College's Schaeffer Theatre, 305 College St. For information about tickets and for additional performance details, visit the festival website: www.batesdancefestival.org/perform-listings.php.
Barnes and company also offer a lecture-demonstration at 7:30 p.m. Monday, July 5, in Schaeffer Theatre. The event is open to the public at no cost.
For her Maine debut, Barnes presents Another Parade. This go-for-broke event set to music by James Brown, Tina Turner, Bach, Elvis and other popular artists packs plenty of punch while somehow straddling the awkward and the debonair. Barnes and company will also preview a brand-new trio titled Fanfare, set to music by Nina Simone.
Barnes' zany dances exhibit an impressive combination of choreographic ingenuity, intellect and humor. They are brilliantly able to pull at your heartstrings one moment and make you laugh out loud the next.
Based in New York City, Barnes has created 12 evening-length dance works, numerous site-specific events and several cabaret numbers for her company. Since moving to New York from her native California in 1995, she has seen her dances produced in more than 20 venues in New York including Danspace Project, Symphony Space, Dance New Amsterdam, Dance Theater Workshop, the Dancenow (NYC) Festival, Movement Research at the Judson Church and La Mama Experimental Theatre Club.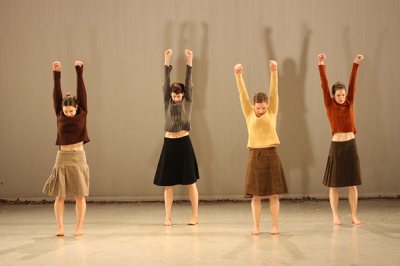 Her work has appeared throughout the United States and abroad at such venues as the International Fabbrica for Choreographers in Florence, Italy; the International Dance and Movement Festival on the Volga in Yaroslav, Russia; Sushi Performance & Visual Art in San Diego, Calif.; DancePlace in Washington, D.C.; and the Philadelphia Museum of Art.
Barnes' numerous awards include a choreographic fellowship at the Maggie Allesee National Center for Choreography at Florida State University; and residencies at Sushi in San Diego, New York's Joyce Theater and Dance New Amsterdam and, in Maine, at the Acadia Summer Arts Program on Mount Desert Island. Learn more.
About the Bates Dance Festival
Founded in 1982 at Bates College, the Bates Dance Festival brings together an international community of contemporary dance choreographers, performers, educators and students in a cooperative community to study, perform and create new work.
The festival serves as an annual destination for artists, students and audiences to engage in a full range of dance activities and performances that foster a creative exchange of ideas, encourage exploration of new ground and provide the opportunity to experience a wide spectrum of dance/movement disciplines.
View Comments