Sports Notes: Rower Danica Doroski '10
Danica Doroski's success shows that rowing is more than poetry in motion
By Andy Walter
Rowing is often described in poetic terms, which is understandable. William Wordsworth defined poetry as emotion recollected in tranquility, and rowing spectators have lots of tranquil time on their hands as they wait, sometimes hours, for brief glimpses of their boat.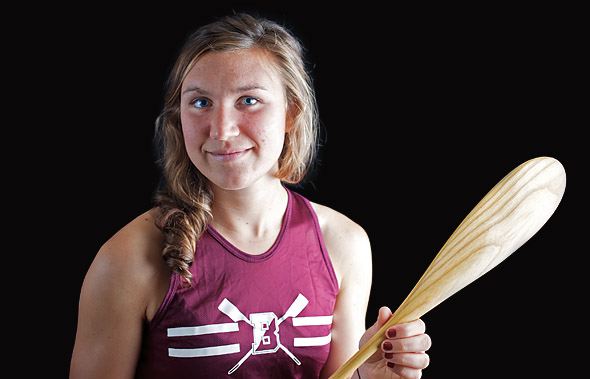 While passing the time, they might easily daydream of eight bodies moving gauzily as one, their boat rippling quietly and intently through the water among ducks and water lilies.
"People do have this romantic image of rowing, and that's fine," acknowledges Bates head coach Peter Steenstra. "But when you're right there on the boat, it's almost violent."
"I get sentimentally feminist when I think about it," she says, "but I really feel like rowing for Bates has empowered me as an athlete.
You have to understand the rigors of rowing to appreciate what Danica Doroski '10 did at Bates: help guide women's rowing to four straight NCAA team appearances, including the best team finishes (second place in 2009 and 2010) in Bates history.
Doroski was an alternate during Bates' first trip to NCAAs, in 2007, when the team placed third. She rowed on the national stage as Bates finished fifth in 2008, second in 2009, and second in 2010.
Still, only recently did Doroski really self-identify as an athlete.
"I get sentimentally feminist when I think about it," she says, "but I really feel like rowing for Bates has empowered me as an athlete. I feel confident in the weight room next to anybody, the big football players or whomever, really pulling my weight."
A native of Wayne, Pa., Doroski played volleyball and was a distance runner in high school but was not a varsity prospect when she arrived at Bates. Like others who take up rowing in college, she got interested after heading out to the Androscoggin with friends who were also interested in the sport.
In an age of increasing sports specialization, rowing remains refreshingly unusual in that you can pick it up in college. "It requires no athletic skill," says Steenstra. "Anyone can do it."
But in another sense, rowing is sport at its purest and most demanding. "Rowing is a matter of wanting to — you have to enjoy the training, you have to enjoy the team, and you have to love racing," Steenstra says. "And if that doesn't all fall into place, people end up leaving. It's a sport that is based on, he who works hardest will win."
Doroski says she got hooked when she first saw the Bates Boathouse and its idyllic setting along the Androscoggin River in Greene and felt the character and personalities of the Bates crew. Since then, she's been a vital example to others. "She won her place every year out of sheer determination and consistent effort," says Steenstra.
"The women who are in the program now, we dedicate most of our lives to rowing," Doroski says. "We still take our studies really seriously, but we're always ready to be out and practicing."
This ethic was in evidence right to the end of her Bates career, as Doroski and her rowing team flew to Sacramento to compete in the NCAA Championships on Memorial Day weekend — they finished second to Williams — and hustled back to campus for Commencement on Sunday.
Bates arrived at the 2010 championships ranked fourth behind Williams, Ithaca, and Trinity, all of whom had defeated Bates in the regular season. Yet during a conversation in mid-May, Doroski exhibited a measured confidence as she looked ahead to the championships. "It's going to be Williams and Bates, a showdown between us two," she said prophetically.
"There was never a question as to whether or not Danica's going to be there or give me her all."
As the only graduating senior to make the NCAA-bound squad all four years, Doroski provided team continuity during the turmoil of three different head coaches since 2006. (Steenstra took over in 2008, and was preceded by an interim coach and by Andrew Carter, who helped grow the program in the early 2000s.)
"There's a lot to be said for that one person that just seems to always be there," says Steenstra. "There was never a question as to whether or not Danica's going to be there or give me her all. She is always competitive, always pushing her teammates, and always working."
An environmental studies major, Doroski volunteered four years with the Junior Naturalist program sponsored by the Stanton Bird Club for elementary school children, leading field trips to measure the age of trees in a nearby old-growth forest and holding sessions with the youngsters, like "Terrific Trees with Danica."
Just as Doroski noticed her own maturation as a athlete, others noticed a change, too. "I saw Danica shortly before she graduated, and I had never seen her so laid back, so relaxed, so self-confident," says Susan Hayward, environmental coordinator for the club's Thorncrag Nature Sanctuary. "What a huge difference from when I saw her as a first-year, trying everything and being so excited, but not having that core of assurance."
Her friends, meanwhile, describe Doroski as humble but not without pride in what's she's accomplished at Bates. "Danica never gloats," says Briana Gerrish '10, Doroski's first-year roommate and close friend. "But I could see throughout the years how much crew has meant to her and how proud she was of being an integral part of such a great team."
In turn, Danica remains almost astonished at what rowing has done for her. "Rowing taught me a level of competition I didn't even realize I had in me."
Leave a Reply
This is a forum for sharing your thoughts about the preceding post with the public. If you have a question for the author, please email the Bates Communications Office at communications@bates.edu.