---
Litchfield County Times profiles honors chemistry grad Pender-Cudlip '10
The Litchfield (Conn.) County Times profiles Marilla Pender-Cudlip '10, "fresh from a stellar academic career at Bates College, where she racked up several honors, including first-place at an international chemistry conference this past summer." Reflecting on her Bates experience, Pender-Cudlip says she "had a lot of opportunities there that I wouldn't have had at a larger school. It was a great experience."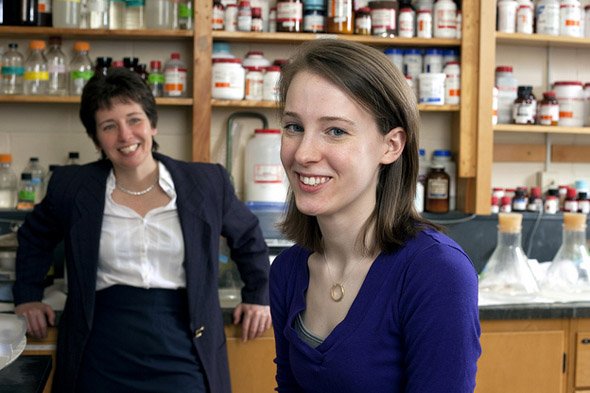 At Bates, she won the prestigious Barry M. Goldwater and Beckman scholarships for science students, and also shared first-place at the European Biological Inorganic Chemistry Conference, held in Thessaloniki, Greece, in June, an event she attended with her thesis adviser, Professor of Chemistry Rachel Austin.
Pender-Cudlip decided to pause before graduate school and take some time out for herself. She's in Boston, working at Massachusetts General Hospital, assisting a medical researcher who studies Omega 3 fatty acids, which have applications for cardiovascular disease and melanoma. Says Austin, "Marilla deserves this time to be young and lighthearted. It's pretty remarkable, having the maturity to not to be seduced by her good grades and rush off to grad school, but let things come to her in her own time. She has a maturity and strength that should be celebrated." View story from The Litchfield County Times, Sept. 28, 2010.
---
Categories:
Alumni and friends
,
Awards to students
,
Bates People in the News
,
Chemistry
,
Intellectual rigor
,
Research excellence
.
---
Contact Us