Pianist Glazer performs tribute to composer Schumann, releases CD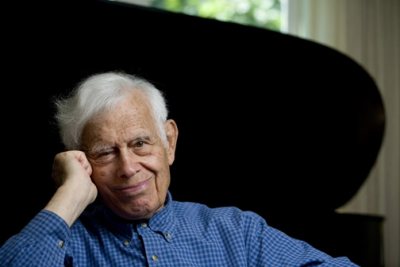 In honor of the bicentennial of Romantic composer Robert Schumann, Bates College artist-in-residence Frank Glazer performs some of the composer's best-loved piano pieces at 3 p.m. Sunday, Dec. 5, in the Olin Arts Center Concert Hall, 75 Russell St.
The concert is open to the public at no cost, but tickets are required. For more information, please contact 207-786-6135 or this olinarts@bates.edu.
The concert coincides with the release of a CD by the pianist. Issued by the college and titled Schubert-Brahms-Beethoven, the CD comprises recordings that Glazer made at Olin in 1998 with the renowned engineer Judith Sherman, but never released. The cover art was created by Pamela Johnson of the college's studio art faculty. It will be for sale at the concert and is also available online here.
Glazer, 95, has been an artist in residence at Bates since 1980. Internationally renowned, he has spent decades touring, composing, recording and teaching.
Schumann is one of the greatest composers of the Romantic era. Born in 1810 in Germany, he influenced music considerably through both his compositions and his sway as a music critic.
His compositional style is described as poetic, observing both structural demands and an innovative melodic "stream of consciousness" that challenged a traditional focus on form. Schumann also advanced the concept of "program music," where prose or poetry provides a matrix for a piece of music.
To celebrate the 200th anniversary of the composer's birth, Glazer will perform a selection of the composer's many pieces for piano: the early "Papillons," Op. 2; the 1836 Fantasy in C Major, Op. 17; and the 1834 Symphonic Studies, Op. 13.
Glazer, of Topsham, dedicated much of his 2009-10 concert season to the performance at Bates of the complete cycle of 32 Beethoven piano sonatas. A student of Artur Schnabel and Arnold Schoenberg, he is at home in every style of music from Bach to contemporary. He has concertized in more than 24 countries; appeared on his own television show for NBC stations; made more than 50 recordings and performed 30 world premieres.
Glazer was a founding member of the Eastman Quartet, the Cantilena Chamber Players and the New England Piano Quartette. With his wife, the late Ruth Glazer, he founded the long-running Saco River Festival in Cornish.
View Comments