'Extraordinary' jazz singer Gretchen Parlato bound for Bates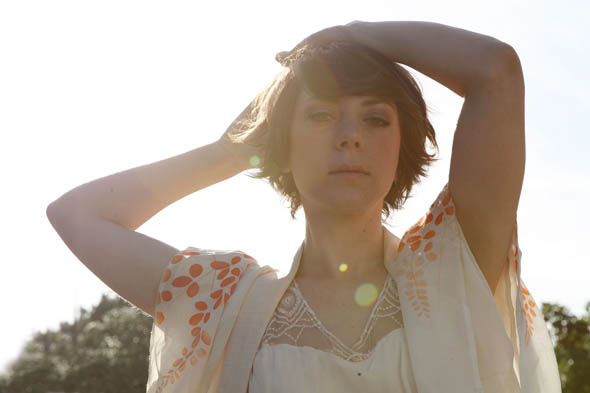 A fast-rising star called by one critic "the most original jazz singer in a generation," Gretchen Parlato performs at 7:30 p.m. Thursday, Feb. 10, in the Olin Arts Center Concert Hall, 75 Russell St.
Admission is $12 for the general public and $6 for seniors, children and students. Tickets are available here. For more information, please contact 207-786-6135 or e-mail.
Reviewing her performance at the 2010 Newport Jazz Festival, The Boston Globe's Steve Greenlee wrote: "Working in a style that drew from bop, bossa nova and strains of world jazz, Parlato delivered her vocals in a breathy manner, nearly whispering her lyrics. . . . The evidence is piling up that young Ms. Parlato is the most original jazz singer in a generation."
In a Dream, Parlato's debut album for ObliqSound, was released in 2009. Declared the year's best vocal jazz album by the Village Voice, In a Dream finds the singer embarking on a beguiling journey deep into both her own compositions and classic material by the likes of Stevie Wonder, Duke Ellington, Herbie Hancock, Wayne Shorter and others — all of which she instantly makes her own.
Los Angeles native Parlato was innately blessed with a striking musical gift. After an education that included studies at the Thelonious Monk Institute of Jazz Performance, where she was the first student vocalist, she moved to New York in 2003. A year later, Parlato won the prestigious Thelonious Monk International Jazz Vocals Competition and then, in 2005, she self-released her debut CD.
In the years since, Parlato's star has only risen. She has toured internationally with her own band and as a guest of many A-list artists — notable performances include the Hollywood Bowl with Oscar Castro-Neves, Gal Costa, Ivan Lins and Dianne Reeves; and the John F. Kennedy Center for the Performing Arts in Washington.
Her recording credits as a guest include Terence Blanchard's 2005 Grammy-nominated album Flow, Kenny Barron's The Traveler and Esperanza Spalding's 2008 self-titled album.
Parlato was recently featured in The Documentary Channel series Icons Among Us: Jazz in the Present Tense and in a special called Rising Stars on Japan's NHK-TV, which gave a one-hour focus to her. Glowing reviews follow her around — such as one by The New York Times' Ben Ratliff that singled out her attention to rhythm and dynamics, and proclaimed, "It's evident that she's an extraordinary singer."
Leave a Reply
This is a forum for sharing your thoughts about the preceding post with the public. If you have a question for the author, please email the Bates Communications Office at communications@bates.edu.