Postcard: Revolutionary icon accompanies history professor to class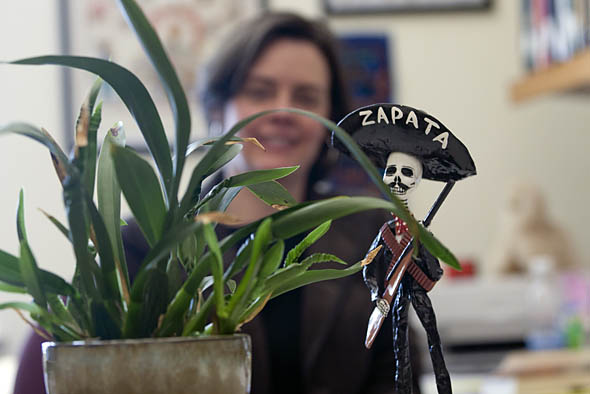 Preparing to leave her Pettengill Hall office to teach HIST 390H, "The Mexican Revolution," Assistant Professor of History Karen Melvin gazes fondly at a figure of the colorful revolutionary Emiliano Zapata that will accompany her into the classroom.
"Zapata was going with me to Hist 390H because we were discussing a book about Zapata and his push for land reform during the Mexican Revolution," Melvin says. She picked up the plastic statue on her most recent research trip to Mexico, where she looked at alms that people in 17th- and 18th- century Mexico sent back to Spain, some for the purpose of ransoming Christian captives from North Africa. "Zapata's one of the fairly ubiquitous figures you can find in craft-souvenir places, but I liked the combination of revolutionary figure mixed with one of my favorite holidays, Day of the Dead."
Melvin's course ties in with a two-day symposium on Latin American revolutions that the Latin American Studies faculty, with support of a Mellon Innovation Fund, hosts March 9 and 10 at Bates.
View Comments