One of New Yorker's '20 under 40,' novelist Mengestu to read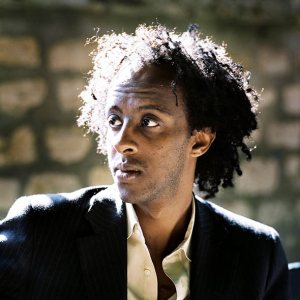 One of the "20 Under 40" writers deemed worth watching by The New Yorker magazine in 2010, novelist Dinaw Mengestu offers a reading at Bates College at 7 p.m. Tuesday, April 26, in Chase Hall Lounge, 56 Campus Ave.
The event is co-sponsored by the Language Arts Live series of literary readings at Bates and by the Public Scholars Symposium program at the college's Harward Center for Community Partnerships. The public is invited to attend at no charge. For more information call 207-786-6202 or 207-786-6326.
The San Francisco Chronicle placed Mengestu's second novel, How to Read the Air (Riverhead Books, 2010), on its list of 100 recommended books for 2010. The New York Times called the book "deeply thought out, deliberate in its craftsmanship and in many parts beautifully written." Reflecting the author's own story, the novel portrays the son of Ethiopian immigrants in a quest to find his place in America.
Mengestu's acclaimed first novel, The Beautiful Things that Heaven Bears (Riverhead, 2007), explores related themes. It was named a New York Times Book Review Notable Book of 2007 and one of Amazon.com's Top 10 novels of the year.
Born in Ethiopia in 1978, Mengestu came with his family to the American Midwest at age 2. He received a bachelor's degree from Georgetown University and a master's in Columbia University's MFA program in fiction.
His work has been featured in Harper's and The Wall Street Journal, and he has written about the war on Darfur for Rolling Stone.
During his Lewiston visit, Mengestu will hold an informal session on writing about the immigrant experience for young writers and Bates students in a literacy and community class at the Lewiston Public Library.
The Language Arts Live series at Bates is sponsored by the English department, the programs in African American and American cultural studies, the Office of Intercultural Education, the Learning Associates Program, the Humanities Fund, the Brandow Family Fund for the Arts and the John Tagliabue Fund.
The Harward Center creates and coordinates programs that harmonize diverse community interests with the academic goals of the college. Funded by a grant from the Christian A. Johnson Endeavor Foundation, the Public Scholars Symposium is a new program supporting annual presentations and discussions of academic civic-engagement work.
View Comments