Olin Arts Center to present Jon Anderson, former lead singer of seminal prog-rockers Yes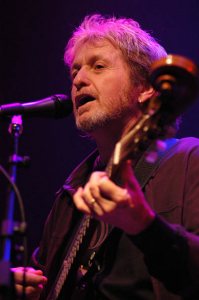 Jon Anderson, known as one of rock music's most distinctive voices thanks to his time with the progressive rock band Yes, offers an acoustic performance at Bates College at 7:30 p.m. Sunday, May 15, in the Olin Arts Center Concert Hall, 75 Russell St.
Tickets are $37.50 and can be purchased from www.batestickets.com. For more information, please contact 207-786-6163 or olinarts@bates.edu.
Yes set the standard for progressive rock through the 1970s with a combination of dense, eclectic musical settings, mystical lyrics and stage performances designed for maximum spectacle and drama. A writer for Rolling Stone described the band's style as a combination of "virtuosic musicianship, suite-like neoclassical structures and three-part high vocal harmonies [that] form an elaborate whole."
Co-author of several of the group's biggest hits, including "I've Seen All Good People," Roundabout" and "Owner of a Lonely Heart," Anderson was central to this approach, in particular the supernatural and folkloric lyric themes.
With bassist Chris Squire, guitarist Peter Banks, drummer Bill Bruford and keyboardist Tony Kaye, Anderson formed Yes in London in 1968. Their debut album was released in 1969 to wide critical acclaim. Anderson's first stint with the band lasted until 1980, a period now considered the classic era of Yes.
He joined a reformed Yes in 1983 for a tenure that produced their most commercially successful album, 90125 (Atco), but departed again in 1988 in disagreement with the band's bent for major commercial success. In 1989, Anderson and other former Yes members formed the group Anderson, Bruford, Wakeman, Howe (ABWH), augmented by bassist Tony Levin.
This outfit went to merge with the then-current members of Yes to form an eight-man version of the band, which produced the album Union (Arista, 1991) and a successful tour. Anderson worked with Yes on and off until 2008.
Anderson remains active as a singer, songwriter and painter. His post-Yes projects include the 2010 album The Living Tree, recorded with fellow Yes veteran and keyboardist Rick Wakeman. He tours widely as a solo performer.
View Comments