New York Times invites Douglass' commentary on eyewitness reliability
For its "Room for Debate" feature, The New York Times invites several leading scholars, including Associate Professor of Psychology Amy Bradfield Douglass, to discuss eyewitness reliability, or rather the growing evidence that the recollections of crime witnesses are anything but reliable.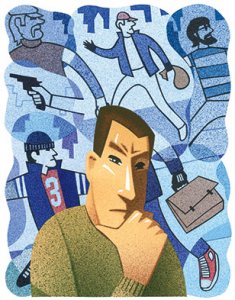 The Times framed the discussion by noting that the Supreme Court of New Jersey recently issued a ruling last week telling judges to proceed with caution when a case hinges on a witness's memory.
In her contribution, Douglass writes that "in making these recommendations, the court relied on decades of psychological research on eyewitness identifications. Some of this research has uncovered elegantly simple techniques for reducing eyewitness errors. For example, simply telling an eyewitness that the culprit may or may not be in the lineup dramatically reduces eyewitnesses' tendency to choose an innocent suspect…. The next logical step is to improve police procedures using science-based recommendations to avoid even prosecuting innocent suspects."
A recent Bates Magazine article looks at Douglass' research, which has been supported by a $129,000 National Science Foundation Grant. Specifically, she's delving into the investigator-eyewitness relationship, including how a crime investigator's feedback affects testimony.
"What happens to an eyewitness' recall when you say, 'You're doing a really good job'?" Douglass explains in the story by Virginia Wright. "The witness may think, 'I have a good memory — they told me so — so I'm going to tell them everything I can because it must be right.' We're trying to understand how feedback changes what they choose to report." View story from The New York Times, Sept. 1, 2011.
View Comments