Stellar music weekend: pianist Goode, a cappella group Chanticleer in tandem concerts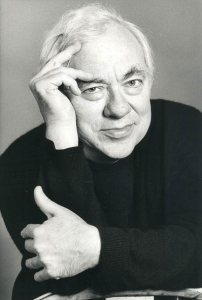 Back-to-back concerts by household names in music kick off a season-long celebration of the 25th anniversary of the Olin Arts Center at Bates College.
Called "one of the finest pianists in the world" by The Washington Post, Richard Goode returns to Bates with a program of Chopin and Mozart at 7:30 p.m. Friday, Sept. 30, at the Olin Concert Hall, 75 Russell St. Tickets cost $20 for the general public and $12 for students and seniors, and are available at www.batestickets.com.
The renowned all-male a cappella ensemble Chanticleer performs its popular program Love Song, spanning 500 years of music, at 7:30 p.m. Saturday, Oct. 1, also in the Olin Concert Hall. Tickets are $25 and $15, also available at www.batestickets.com.
For more information, please contact 207-786-6135 or olinarts@bates.edu.
Goode is known for the energy and expressiveness he brings to each interpretation. "Few can match his unfailingly beautiful tone, effortless technical command, interpretive insight and total emotional commitment to the music he plays," said The Washington Post.
A  New York Times writer adds, "It is virtually impossible to walk away from one of Mr. Goode's recitals without the sense of having gained some new insight, subtly or otherwise, into the works he played or about pianism itself."
Speaking with Olin Concert Hall manager Seth Warner, Goode explained that there's a certain logic in combining Mozart and Chopin on a program. "For Chopin, there were the gods, Bach and Mozart — and of course he did love Italian opera of his day," Goode said. "It was the love and spirit of these ingredients that he imbued in his music."
Goode last visited Bates a decade ago, performing with his wife, violinist Marcia Weinfeld
Mozart and Chopin share an "ever-present display of beautiful form and an obvious love of clarity and allegiance to classicism," the pianist continued. "For the sake of balance, a comic spirit or darkness are never allowed to completely dominate" the music of either composer.
Goode last visited Bates a decade ago, performing with his wife, violinist Marcia Weinfeld.
He is touring around the nation and the globe during the 2011-2012 season, including performances with the Metropolitan Opera Orchestra; the Los Angeles Philharmonic; a West Coast tour with the Boston Symphony; and recitals at Carnegie Hall, as well as in Chicago, Philadelphia, Berkeley, Kansas City, Baltimore, Detroit and at universities around the country.
A Nonesuch Records recording artist, he has released more than two dozen albums since the mid-1980s. Goode was the first American-born pianist to record the entire collection of Beethoven piano sonatas — producing an edition nominated for a Grammy Award and widely acclaimed.
Chanticleer
The evening following Goode's performance, the San Francisco-based, 12-voice ensemble Chanticleer performs Love Song. Exploring humankind's most profound and fascinating emotion, the program showcases music by composers as diverse as Claudin de Sermisy, Richard Strauss and Cole Porter, and includes a new composition by Stephen Paulus and a new Vince Peterson arrangement of "Somebody to Love" by Freddy Mercury.
Founded by the late Louis Botto in 1978, Chanticleer is known as "an orchestra of voices" for the seamless blend of its voices ranging from countertenor to bass and its original interpretations of vocal literature, from Renaissance to jazz, from gospel to intrepid new music.
Chanticleer is known as 'an orchestra of voices'
"The singing of Chanticleer is breathtaking in its accuracy of intonation, purity of blend, variety of color and swagger of style," noted a writer for The Boston Globe.
Chanticleer will perform more than 100 concerts in 2011-12. Other highlights of the season will include the debut of the concert series What Do You Think I Fought For? — incorporating video and personal testimonies to accompany musical reflections on conflict.
In addition, Chanticleer will perform on the soundtrack of the 10th anniversary release by Microsoft of its legendary video game "Halo." And it will return to six California missions with more newly discovered music from the time, more than two centuries ago, when the Spanish were establishing their missions in the state.
View Comments