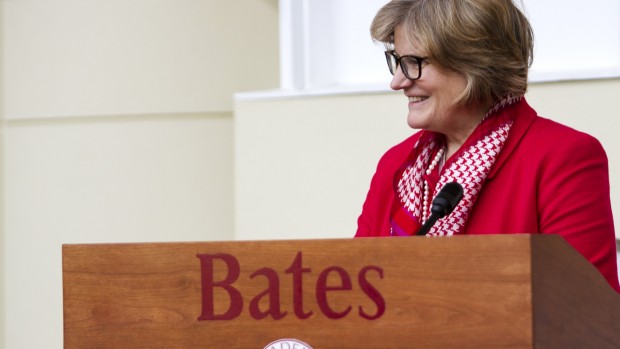 "We have ambitious goals for Bates, and I am inspired by this outpouring of support from the college community," said President Clayton Spencer.
Published on
Description

---

November 1, 2010
12:34 pm

"Reach out," said Larry Handerhan '05 during a Saturday-afternoon Homecoming panel discussion co-sponsored by OUTFront and Bates Alumni Pride. While…

October 26, 2010
12:20 pm

Presenting five nights of readings by poets from Europe, Asia, Africa and the Americas, the festival "Translations 2010: Cross-Cultural Awareness Through Poetry" takes place at Bates College Nov. 7-11.

September 29, 2010
9:57 am

Maine's best-known pianist, Frank Glazer, performs at Bates on Nov. 13 with the Bates and Bowdoin College Orchestra, and on Dec. 5 in a solo program celebrating Robert Schumann.

September 17, 2010
11:30 am

Here are speaker biographies for African Refugee Health: Best Practices. The conference's nearly three dozen presenters include healthcare workers from across the country and beyond; faculty in diverse disciplines from Bates and other colleges; and interpreters, social workers, counselors and other experts in breaching cultural factors that impede refugee access to healthcare.

September 15, 2010
4:42 pm

As summer enters its final week, we are sharing stories from students who had Bates-related summer experiences, each day through…

August 31, 2010
4:27 pm

At Bates, we know that we must cultivate future scientists from a wide range of backgrounds in order to flourish…

August 27, 2010
2:00 pm

In a dizzying display of data mining, Chris Danforth '01 invents a way to measure human happiness in real time…

August 27, 2010
2:00 pm

How a tradition of learning inside, outside, and around the classroom influences Bates facilities growth By President Elaine Tuttle Hansen…

August 5, 2010
3:30 pm

As part of a comprehensive reorganization to advance diversity and inclusion, longtime Bates administrators Roland S. Davis '92 and Carmen…

August 4, 2010
12:08 pm

The 10th annual Clean Sweep, Bates College's "garage sale" of appliances, furniture, electronics and other goods donated by departing students, raised nearly $16,000 in proceeds that will be divided among 14 local nonprofit organizations. A community tradition, the June 19 sale drew crowds of enthusiastic bargain-hunters to Bates' Underhill Area. "More than 100 volunteers from 14 local nonprofit organizations put in more than 1,000 hours of collecting, sorting, cleaning, organizing and pricing an arena full of items," says Julie Rosenbach, event organizer and the college's sustainability coordinator.