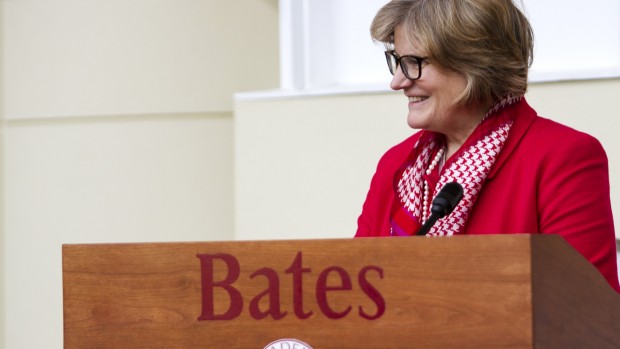 "We have ambitious goals for Bates, and I am inspired by this outpouring of support from the college community," said President Clayton Spencer.
Published on
Description

---

September 11, 2009
10:33 am

The Harward Center for Community Partnerships at Bates College launches its 2009-10 Civic Forum series with a panel presentation titled…

August 28, 2009
12:58 pm

An Inside Higher Ed essay by Bates cultural historian David Scobey suggests how colleges might respond to the decline of…

July 1, 2009
11:00 am

Readers share comments about Bates Magazine.

June 26, 2009
11:11 am

Bates College President Elaine Tuttle Hansen has been honored as an outstanding alumna educator by the Mount Holyoke College Alumnae Association.

June 9, 2009
12:23 pm

Clean Sweep, Bates College's fourth annual sale of furnishings and other goods donated by departing students, takes place from 9 a.m. to 4 p.m. Saturday, June 19, and 10 a.m.-2 p.m. Sunday, June 20, at the college's Underhill Arena, 145 Russell St.

May 24, 2009
12:42 pm

Maine Sunday Telegram columnist Bill Nemitz writes about a community-building act of philanthropy by Dr. Chuck Radis '75, who provided…

March 12, 2009
11:40 am

On March 12 and 13, two decisive actors in the effort to curtail global climate change offer back-to-back talks at Bates College.

February 16, 2009
3:49 pm

The Deansmen, one of Bates College's two all-male a cappella groups, peforms during the Fourth Annual Harward Center Community Partnerships Community Celebration at the Lewiston Public Library.

January 20, 2009
12:00 pm

Debra Schultz, an historian and human rights consultant; Jael Silliman, a women's rights program officer for the Ford Foundation; and Shalom Odokara, executive director of Women in Need Industries, offer a presentation titled "Women's Rights and Women's Activism: An International Perspective".

January 19, 2009
10:02 am

The largest barrier to employment for many new Somali residents of Lewiston and Auburn is a lack of English language skills, according to a new report by a Bates College research group. Somali respondents also voiced frustration that a General Educational Development (GED) certificate is often required as a minimum qualification for most entry-level jobs, regardless of prior job experience. The GED certifies that an individual has American high school-level academic skills.