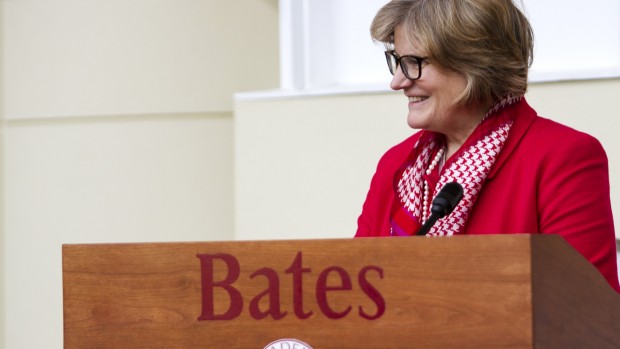 "We have ambitious goals for Bates, and I am inspired by this outpouring of support from the college community," said President Clayton Spencer.
Published on
Description

---

February 26, 2010
4:06 pm

Bates College has been named to the 2009 President's Higher Education Community Service Honor Roll with Distinction.

February 4, 2010
4:47 pm

Rupert Brown will discuss the "contact hypothesis," the argument that contact among members of different groups will reduce existing prejudice and improve social relations between them.

January 29, 2010
11:15 am

The Harward Center for Community Partnerships at Bates College holds its fifth annual community celebration, featuring the Deansmen, Bates Step Team, Bald Hill Trio, Hillview Girls Aspirations Program and the Androscoggin Valley Education Collaborative Writing Program.

December 23, 2009
5:31 am

Craig Saddlemire '05 went from observer to activist as he chronicled a Lewiston neighborhood fighting to be heard.

December 21, 2009
11:02 am

President Reynolds, who died in September, defined his Bates presidency when he climbed into that U-Haul truck.

December 11, 2009
4:59 pm

Dressed in college garb on Dec. 4, staff at Bates College pose on the steps of Hathorn Hall for the…

December 8, 2009
12:37 pm

For some members of our community,the simple freedom of economic choice does not exist. Religious considerations prohibit Muslims in our community from using the American system of banking. Specifically, they are forbidden to use banking products that involve interest or money begetting money.That's why, at the bank's request, my Bates anthropology class "Production and Reproduction" took on a community-based research project involving the local Somali population this semester. We explored ways in which Islamic and American banking differ. Our research gave the bank ideas for Islamic banking services.

December 2, 2009
4:32 pm

Filmmakers Catherine Tatge and Dominique Lasseur speak about the role of new video technology in democratic citizenship at 7 p.m. Thursday, Dec. 3, in the Keck Classroom (Room G52) of Pettengill Hall, 4 Andrews Road (Alumni Walk).

November 15, 2009
4:03 pm

A Boston Globe story describes the support network for six siblings of the Basij-Rasikh family of Afghanistan, several of whom…

November 9, 2009
2:26 pm

After a hiatus of a couple of weeks, students have resumed their work in the local community in schools and other agencies.