Bates conservation area awarded for service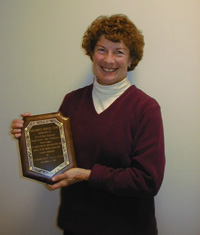 On Nov. 2, the Bates-Morse Mountain Conservation Area (BMMCA) Corporation, which owns the coastal research area administered by Bates College, received the Partnership Service Award from the Androscoggin Valley Soil and Water Conservation District.
The award, presented during the district's annual meeting, commends the BMMCA organization for its service and dedication to the conservation of natural resources in the region, says Kay Nickel. Nickel is district conservationist in the Lewiston field office of the Natural Resources Conservation Service, an office of the U.S. Department of Agriculture that supports the conservation district's efforts.
Nickel has special praise for Judith Marden, director of the BMMCA and of Bates College's Coastal Center at Shortridge. Nickel referred to Marden's work in facilitating the restoration of important salt marshes at the BMMCA, a parcel of 574 acres of rare undeveloped barrier seacoast that the college manages in Phippsburg.
Marden, says Nickel, "has used her skill and charm to lead a very diverse group of people — including private landowners, students, conservation groups and government agencies — toward the conservation of natural resources at Bates-Morse Mountain."
"Her sense of humor, warmth and perseverance keep all of us moving forward together to accomplish our goals," Nickel says. "Judy is a joy to work with."
Marden accepted the award after a luncheon at the Shortridge center, also in Phippsburg, and after a presentation describing salt marsh restoration at the BMMCA. The restoration reverses drainage work done on the Sprague River marsh as early as the 18th century. The digging of drainage ditches to facilitate cattle grazing diminished the value of the marsh environment to wildlife and encouraged growth of invasive plants, among other deleterious effects.
The BMMCA is collaborating with the U.S. Fish and Wildlife Service, the Nature Conservancy, the Small Point Association and other partners to return the marsh to its pre-Colonial state. The work involves plugging old drainage ditches and removing other obstacles to water circulation. A new phase of the project will begin in December, Marden says.
"The salt marsh environment provides critical habitat for wildlife, fish, and nesting and migrating birds," Marden explains. "Almost every salt marsh in Maine has been filled, ditched, paved, polluted, developed or otherwise degraded by human activity."
Although creating new marshes is impossible, she says, and some are damaged beyond repair, "the restoration of those still relatively intact is vitally important in the conservation of the state's natural ecosystems and indigenous species."
Students and faculty from Bates and other institutions use the BMMCA for educational programs, scientific research and literary study. The area is also open to public visits that are consistent with its mission and do not interfere with the area's sense of solitude and quiet natural beauty.
View Comments