Bates geologist receives $50,190 for climate-change research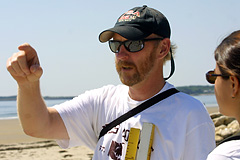 Michael J. Retelle, a professor of geology at Bates, is one of 13 scientists across the nation to share nearly $1,500,000 in National Science Foundation funding for Arctic research related to global climate change.
The NSF funds, awarded for a four-year period beginning March 1, support an ongoing project to create a 2,000-year climatic history of the North American Arctic. The researchers are analyzing layers of sediment deposited annually upon Arctic lake beds for clues to climatic conditions during the past two millennia, clues such as sediment thickness and chemical composition.
The NSF grant totals $1,476,442, of which Retelle's share is $50,190. That money will defray costs of analyzing six lake-floor core samples that Retelle collected in 2003 from lakes on Devon, Cornwallis and Bathurst islands, near Greenland in Canada's Nunavut Territory. Retelle and three students (including Dan Frost, a senior from Farmington, Maine) will process the samples this summer.
Titled "Collaborative Research: A Synthesis of the Last 2,000 Years of Climatic Variability from Arctic Lakes," the NSF-funded project is intended to provide a context for better understanding of current climatic trends. "It's important to try to put the recent climatic warming in a longer-term perspective, and to try to tease out whether what we're looking at is part of the range of natural variability or, indeed, if it's a result of human alteration of the atmosphere," Retelle explains.
"The further we can go back and see how the natural system works, the better we can put this recent warming into context and try to understand what's controlling it."
Analyzing core samples from 30 lakes across a region of the North American Arctic from Alaska to the northwest Atlantic, the researchers will integrate their results of their work and, they hope, be able to announce findings by 2007. The project extends a 400-year Arctic climatic history project whose results were widely publicized in 1997.
Retelle explains that, as records (or "proxies," in scientific parlance) of the weather from year to year, layers of lake sediment can be likened to tree-growth rings. Thicker layers can signify warmer summers that promoted plant growth in the lake or rainstorms that washed soil into the lake. Also informative are levels of carbon, nitrogen and substances like biogenic silica, a hard remnant of algae.
Retelle and his assistants will analyze the samples through a variety of means, including an X-ray fluorescence spectroscopy system at the University of Laval, Quebec.
Climate is a central theme of Retelle's work, and in nearly 30 years' worth of visits to the Arctic, he has seen climate-related changes that he calls "actually frightening." He points to Ellesmere Island, 480 miles from the North Pole, where floating coastal ice shelves have receded dramatically and lake ice that once persisted year-round is now seasonal. "There are radical changes," he says.
The grant is the latest in a series of NSF awards that Retelle has received for Arctic lake-bed study and for bringing students into this research. (More than 20 of Retelle's students have conducted research in the Canadian Arctic for senior thesis projects.) He has done geological research in the Arctic since 1976, when he worked as a field geologist and engineer on the Trans-Alaska Pipeline.
Retelle, of Monmouth, has worked at Bates since 1987. His teaching and research are focused on geological events of the past 1,600,000 years — called the Quaternary Period — and specifically ancient environmental records from glacial, lake and marine sediments in Maine as well as the Canadian arctic.
Here in Maine, with Thomas Weddle of the Maine Geological Survey, Retelle has published findings from an ongoing survey on the impacts of the retreat from Maine of Ice Age glaciers, including changes in sea level. He also works with students in assessing seasonal effects of weather at the Bates-Morse Mountain Conservation Area, Phippsburg.
Retelle is a senior researcher for the Svalbard Research Experience for Undergraduates, a summer project funded by the NSF and hosted by Mount Holyoke College, that brings six students to the Norwegian Arctic to research the effects of climate change upon high-latitude glaciers, melt-water streams and sedimentation in lakes and fjords.
He graduated with a bachelor's degree in earth sciences from Salem (Mass.) State College, and earned graduate degrees in geology at the University of Massachusetts.
View Comments