Performance honors pioneering geneticist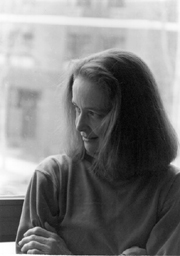 The scientific creative process comes alive in a one-woman performance. An actor-dancer from Massachusetts, Sharon Wyrrick performs The Search for Barbara McClintock, a multimedia piece about a pioneering woman geneticist, at 7 p.m. Wednesday, Feb. 27, in the Olin Arts Center Concert Hall.
Using movement, poetry, prose, music and visuals, Wyrrick offers both a multifaceted portrait of McClintock and insights into the creative process that scientists and artists share. Based in North Adams, Mass., the actor draws from McClintock's life and and her own adventures in researching the scientist to construct this dynamic show.
"I respond to the particular situation in which I am performing: the audience, their reactions and my intuition in the moment, choosing what stories and in what order to share them," Wyrrick says.
Barbara McClintock (1902-1992) was one of the few women scientists working in the early years of genetics. She is best-known for discovering movable genetic elements, popularly called "jumping genes," revealed through her meticulous and passionate work with Indian corn.
When McClintock made her groundbreaking observations, in the 1940s, the working model was that genes lay in a fixed order along the length of a chromosome. The awarding of the Nobel Prize to McClintock in 1983, decades after her key research, reflects the challenge her ideas presented to conventional wisdom, Wyrrick says.
The public is invited at no cost to this event sponsored by the Society for Women in Math and Science (SWIMS), the Women and Scientific Literacy Project and Sigma Xi, an international non-profit research society.
View Comments