Former U.S. surgeon general opens 148th academic year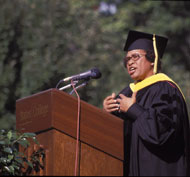 On Sept. 4, former U.S. Surgeon General M. Joycelyn Elders opened the 148th academic year at Bates College with a challenge to the Class of 2006. In her second visit to Bates this year, Elders told a convocation gathering of more than 2,000 students, staff and faculty that the students now starting here must summon the courage and the will to become transformational leaders for a new century fraught with pressing difficulties.
"When you're dancing with a bear," Elders said, "you can't get tired and sit down. You have to wait until the bear gets tired."
Elders, speaking under a warm sun that chased off a light morning rain, offered a convocation address titled Leadership and Responsibility in the 21st Century: What Will Your Role Be? In sometimes fiery, sometimes folksy style, she reminded her listeners of harsh social and economic inequities facing many Americans, drawing applause with the observation that free health care is provided to prison inmates "but not to sick babies."
In her first Bates convocation, college President Elaine Tuttle Hansen followed Elders at the podium. Hansen, who took office as Bates's seventh chief executive in July, told the first-years that she was one of them – a newcomer to the college. Rather than "a status report, an agenda or advice," she offered the students a few predictions about their Bates years and summarized qualities, such as openness and poise, that drew her here and that have made Bates a national presence.
"The word is out: Bates is hot," Hansen said.
Elders' convocation address followed a Bates visit in May to receive an honorary doctorate in science at commencement. A pediatric endocrinologist and the first African American to serve as U.S. surgeon general, she is an outspoken advocate for the young, the poor and the powerless. Confirmed as surgeon general in 1993, she argued for universal health coverage, was a spokesperson for President Clinton's health reform effort and argued for comprehensive health education, especially sex education in schools.
In her convocation speech at Bates, Elders left no doubt about the enduring strength of her convictions. "You are going to be our new leaders," she told the 421 first-year students sitting in front of the Coram Library, and said they would need to leave Bates with "a song in your heart to deal with the heavy burden, the heavy responsibility that you will bear when you're done here."
Speaking with mounting passion and vividness, Elders described a litany of unmet human needs in America. "We are the richest country in the world. We have 25 percent of the wealth of the world, and only 5 percent of the population," she said. "And we are the only industrialized country that does not offer universal health care to all of its people."
Elders pointed to the many children afflicted with the "five H's" – children who are hungry, "healthless," homeless, hugless and hopeless. She linked a renewed call for universal, meaningful sex education with the ongoing controversy over abortion, winning more applause with the remark, "I've never known anyone to need an abortion who wasn't already pregnant."
The convocation began around 4 p.m. with music by the Portland Brass Quintet and the traditional processional onto the college's tree-shaded main quadrangle. Professor of Sociology Sawyer Sylvester, the longest-serving member of the faculty, led the ranks of his colleagues in academic regalia. He was followed by Hansen and Elders.
Other speakers included college Chaplain Kerry Maloney, who gave the benediction, and Graham Veysey, a junior from Shaker Heights, Ohio, who provided the welcoming address. Maloney quoted the 12th-century saint Bernard of Clairvaux, comparing those who seek knowledge out of curiosity or vanity to those who seek it in order to serve, "and that is love."
Veysey traced the college's values and sense of community back to its founding 147 years ago, saying, "Imagine if these trees could talk." Veysey concluded by borrowing a theme from Benjamin Mays, a 1920 Bates graduate who went on to become president of Morehouse College and a key figure in the civil rights movement: "Let your hearts stay warm and don't let the weather get you down."
View Comments