Elaine Tuttle Hansen to be inaugurated as Bates College president in Saturday ceremony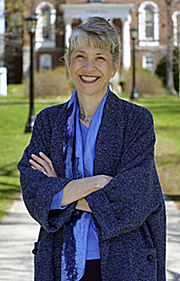 Bates College celebrates the presidential inauguration of Elaine Tuttle Hansen at 10:30 a.m. Saturday, Oct. 26, 2002 in the Margaret Hopkins Merrill Gymnasium.
Guests are requested to take their seats between 10 and 10:15 a.m. The installation ceremony and several other events and exhibitions (listed below) are free and open to the public.
Presidential inaugurations at Bates College are rare: Only six other presidents have served at Bates during its 147-year history. Delegates from 105 colleges, universities and learned societies around the nation will join the 10 a.m. procession of Bates faculty and trustees in a ceremonial march accompanied by the Bates College Javanese Gamelan ensemble.
The inaugural procession will march to Merrill Gymnasium from Alumni Gymnasium at 10 a.m. Hansen will be welcomed by Bates College Trustee Chair Burton M. Harris. Formal greetings will be made by representatives of Bates students, faculty, staff and alumni, who are celebrating both the inauguration and Homecoming this weekend. Community greetings will be offered by City Councilor Lillian LaFontaine O'Brien for the city of Lewiston, Mayor Lee Young for the city of Auburn, and Cornell University President Hunter R. Rawlings III for the academic community. Hansen's inaugural address is titled The Place of Possibility. The ceremony will conclude with music from the Steel Pan Rhythm Riders.
Hansen was elected president by college trustees Jan. 26 and began her duties as Bates president on July 1. The inaugural ceremony is her formal investiture and provides for conveyance of the symbols of her office: a record book, keys and the Presidential Collar, whose silverwork includes images symbolizing the academy, Bates and Maine.
Before her selection as president of Bates, Hansen served as provost at Haverford College in Pennsylvania, a liberal arts college of 1,100 students located in suburban Philadelphia. Hansen earned her bachelor's degree at Mount Holyoke College, her master's at the University of Minnesota and her doctorate at the University of Washington.
Before coming to Haverford in 1980, she was an associate editor of the Middle English Dictionary at the University of Michigan and taught at Hamilton College. She has taught a wide variety of courses in Middle English literature and in contemporary women's writing and feminist theory, as well as introductory linguistics and first-year writing seminars. Before being named provost at Haverford, she served as chair of the English Department and as Coordinator of the Haverford/Bryn Mawr Concentration in Feminist and Gender Studies. She was also awarded the Lindbach Teaching Prize.
Hansen has published numerous literary critical articles and reviews and three books: Reading Wisdom in Old English Poetry (University of Toronto Press, 1988); Chaucer and the Fictions of Gender (University of California Press, 1992); and Mother Without Child: Contemporary Fiction and the Crisis of Motherhood (University of California Press, 1997). She is a member and past President of the Society for Medieval Feminist Scholarship and a member of the Modern Language Association, where she has served on the Executive Committee of the Chaucer division, the Delegate Assembly, and the Committee on Academic Freedom and Professional Rights and Responsibilities.
Hansen, 54, is married to Stanley Hansen, a speech pathologist. They have two children: Emma, 20, a student at Macalester College in Minnesota, and Isla, 15, a student in Lewiston.
Founded in 1855, Bates has never had fraternities or sororities, and was the first coeducational college in New England. It infused its egalitarian traditions with leading-edge academic initiatives to be recognized as one of the top colleges in the country. The last decade has seen record admissions applications, 10 new academic majors, 13 major building projects, and institutional leadership of a community-development partnership with the twin cities of Lewiston and Auburn called by Maine Gov. Angus King "the most extensive in the history of the state."
Bates is ranked in the top 25 national liberal arts colleges in U.S. News & World Report. In this year's Princeton Review Bates is ranked 11th in the country for "Best Overall Academic Experience for Undergraduates." Bates is one of the top colleges in the country for students interested in the world: In the Class of 2002, 68 percent of the graduates applied toward their degree credit earned abroad.
View Comments