Alumni share expertise in arts, humanities, busines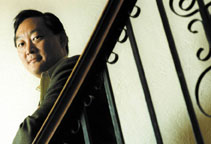 Whatever their occupations, Bates alumni know their experiences since graduation constitute a knowledge resource that can benefit fellow alumni as well as today's students. And they're not stingy with that resource.
The accumulated wisdom of Bates people out in the world is like an electrical charge buzzing through the extended Bates community. In Boston and New York, for instance, Bates Business Networking groups are holding get-togethers to meet, greet and most importantly, share ideas — with the inaugural New York event, on April 29, drawing more than 50 and featuring Bates trustee and Catterton Partners co-founder Michael Chu '80 as speaker.
The quarterly New York gatherings include an "open mike" for comments and questions about business issues, and a featured speaker outstanding in his or her field from the alumni body. The group borrowed the format from the Cornell Entrepreneurial Network — thanks to Robert Everett, the father of Catherine Everett '05 and a Cornell University development officer, who described his institution's model for a planning session in January.
Chu, a Bates trustee, is co-founder and managing partner of Catterton Partners, the leading private equity firm providing growth capital to the consumer industry, with more than $1 billion in equity capital under active management. He founded Catterton 10 years after graduating from Bates with highest honors as a double major in psychology and economics.
Prior to Catterton, Chu held a variety of top positions with First Pacific Company, a Hong Kong-based investment and management company, which he joined in 1983. For his fellow Batesies, he discussed the challenges and rewards of founding a company after a successful career in international finance and business — an auspicious topic to launch the series.
Meanwhile, a steady stream of alums return to campus to offer guidance to today's students. "Investment bankers, physicians, CEOs, entrepreneurs, state and federal public servants, members of the military — all have freely given of their time and expertise to help Bates students make good decisions, and in many cases, give them a practical leg up in a competitive job market," says William C. Hiss '66, vice president for external and alumni affairs.
"For the students, it's sometimes quite a life-changing experience, as an alum gets a student started in a career with advice or help in the hiring process."
Topics range from business issues to life planning to the arts and humanities. For instance, two members of the Class of 1997 working in the visual arts returned during the winter — Sarah Rogers, a Ph.D. candidate at M.I.T, came in February to discuss a modern-art movement in Iraq during the 1950s, and Matt Tavares, an author-illustrator of children's books, gave a slide talk on his work in March.
In May, three anthropology majors who have parlayed their Bates experience into community service offer a series of talks titled Turning Anthropology Into a Career. Sponsored by the anthropology department and presented in Pettengill G4, the series features:
Robin Waterman '85, who spent four years working in rural literacy development in Mexico and El Salvador. Co-author of Now We Read, We See, Now We Speak (Lawrence Earlbaum Press, 2000), Waterman is working toward her Ph.D. at Harvard's Graduate School of Education. She'll give her talk, Navigating Cultural Boundaries, at 4:15 p.m. Friday, May 2;
Laurie McDonnell '90, cultural skills trainer for the Portland/Lewiston Refugee Collaborative, gives a talk titled My Journey From Bates Back to Lewiston at 7 p.m., Monday, May 12;
Sarah Standiford '97, who in 2002 worked with doctors in Uganda to create a network of reproductive health educators. Now a community organizer for Planned Parenthood of Northern New England and co-chair of the Maine Choice Coalition, she offers the talk Building Power: Using Principles of Anthropology to Effect Social Change at 7 p.m. Tuesday, May 20.
View Comments