Bobcats hit the road in search of NCAA track and field titles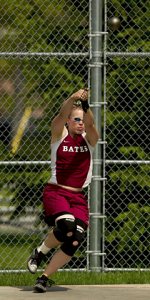 Eight Bates College student-athletes will head to Decatur, Ill., to compete at the 2004 NCAA Division III Outdoor Track and Field Championships later this week.
Two women, Kelly Godsey '06 and Liz Wanless '04, will be favorites to claim NCAA throwing titles. Six men will represent Bates in a wide range of events.
Wanless, who won the 2004 NCAA indoor title in the shot put, is the top seed in the event by more than five feet. Godsey is the top seed in the hammer throw, holding a 10-foot margin over her nearest competitor. Godsey will also compete in the shot put and the discus.
Joe Northrup '06, an All-America in the decathlon last year, is the fourth seed in the event to headline the Bates men this year. Jordan Upton '04 and Scott Cooper '06 will compete in the hammer throw for the men's team, while Dustin Gauthier '05 qualified for the shot put. Joel Colony '05 will run the 100-meter dash, and Matt Ondra '04 is entered in the pole vault for the Bobcats.
For the latest results following each day of competition, visit the Athletic Department Web site.
View Comments