Bates museum, MECA jointly present major Chinese artist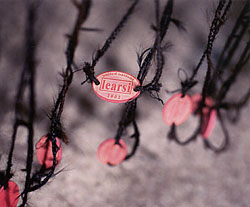 In a collaboration unusual for Maine's academic museums, the Bates College Museum of Art and the Institute of Contemporary Art at Maine College of Art, Portland, will jointly present an exhibition by Wenda Gu, one of the most important artists to emerge from China in recent decades.
From Middle Kingdom to Biological Millennium opens at Bates on June 12 and at ICA, site of the opening reception for both institutions, on June 18. Bates hosts the closing reception and a performance by Gu on Oct. 9.
The Bates museum is located in the Olin Arts Center, 75 Russell St., and admission is open to the public at no cost. It is open 10 a.m.-5 p.m. Tuesday-Saturday and is closed Sundays and major holidays. For additional information about the Bates College Museum of Art call 207-786-6158. For more about ICA call 207-879-5742.
At Bates, the Gu exhibition takes place in the museum's Upper Gallery. In the Lower Gallery, also opening on June 12 are the shows New Acquisitions: Local and Global Contemporary Photography, which closes May 30, 2005, and Marsden Hartley: Image and Identity, which closes Dec. 18 of this year.
Gu was active in the Chinese avant-garde before emigrating to the United States in 1987. He mines tradition and pursues innovation in works that explore globalism, diasporic art and transculturalism to present an idealized unification of humanity.
"Wenda Gu's work is timely in its ambitious attempt to address in artistic terms the issue of globalism that dominates discussions of contemporary economics, society and culture. The enormous scope of his vision — conceiving of his artwork as existing over time and space and not constrained by convention, language or national boundaries — is remarkable," writes Mark H.C. Bessire in the exhibition publication, the first major scholarly publication on Gu (MIT Press).
Bessire, director of the Bates museum and former director of ICA, edited the publication and, with counterparts at museums in Kansas and Texas, co-curated the exhibition. It consists of two site-specific installations, two other installations and a performance.
"Words, languages, human hair, glue, calligraphy and stone carving are just some of the components of his installations that catalyze discussion and broaden awareness among viewers," Bessire writes.
At the Bates museum, Gu will create an installation titled "united nations — 7561 kilometers," the 20th piece in his "united nations" series. An ongoing worldwide project begun in 1992, the series consists of "monuments" made of human hair, collected from barbershops across the globe, that the artist presses or weaves into bricks, carpets and curtains. The blend of hair from different nations is a metaphor for the mixture of races that Gu predicts will eventually unite humanity into "a brave new racial identity."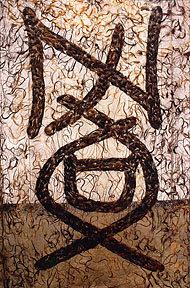 For "united nations — 7561 kilometers," Gu will construct a "temple" using thin and colored human hair braids. The structure will large enough for viewers to pass through and under the piece. Members of the Bates and local communities will be invited to participate in "united nations — we are united," the artist's performance in October.
Among his works at the ICA, Gu will present a second original installation, a new chapter in a series using stone steles marked with retranslated, rewritten Tang Dynasty poetry, as well as rubbings taken from the steles. Inventing and misusing words and language symbols in a variety of languages, Gu embraces mistakes and misunderstandings. He finds absurdity and unexpected beauty in the acceptance of illogical retranslations.
The project was supported by The Andy Warhol Foundation for the Visual Arts and the National Endowment for the Arts.
In the museum's Lower Gallery, New Acquisitions: Local and Global Contemporary Photography presents American, African and Chinese artists whose work transcends its local origins to achieve global relevance. The American photographers include Melonie Bennett, Tanja Hollander, Jocelyn Lee, Scott Peterman and Sa Schloff, all associated with the Bakery Photo Cooperative in Portland.
The Chinese photographers include the seven who showed work during the winter in the museum's acclaimed exhibition, as well as exhibit curator Gu Zheng. (Here's the Documenting China press release and here's the museum's description, with a slide show.) The breadth of contemporary African photography is represented by Samuel Fosso, Malick Sidibe, Jurgen Schadeberg, Bernie Searle (performance artist) and Sukhdeo Bobson Mohanlall.
Also in the Lower Gallery, Marsden Hartley: Image and Identity taps the museum's collection of materials pertaining to Hartley. In fact, the museum was established as a repository for the collection of drawings, photographs and documents by or about this key 20th-century modernist, a Lewiston native. Evidence of Hartley's efforts to establish his name and locate himself within the collective memory of the public, his friends and family turns up throughout the collection.
Hartley's personal archive not only provides ample information about the artist's life, relationships and interests, but demonstrates an attempt to construct both a personal history and a public identity. The collection includes a large number of photographs, both personal snapshots and formal portraits by George Platt Lynes and Alfredo Valente.
It's evident that photography allowed Hartley to remake himself in any image he desired: New York modernist, European aesthete, native Mainer. Hartley's ongoing struggle to find his place — geographically, psychologically, artistically and as a gay man — is documented in his writing, reflected in his work and revealed through a study of his archive.
View Comments