Darcy York '05 makes a present of Bates' past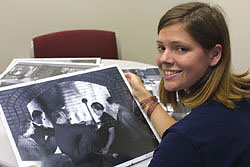 As a history major, Darcy York '05 will spend her senior year researching how the Romans viewed women who led peoples conquered by the empire, women such as Cleopatra.
But this summer York is engrossed in a much more recent chapter in history: the story of Bates College as revealed by photographs from the college's archives.
In a project titled A Visual History of Bates College, York is bringing to light photos depicting life as it was lived decades ago at the 149-year-old institution. She's mounting reproductions of the vintage images around campus in the places where they were taken.
"I really want the photos to go where you can stand and look at them, and then turn and see what the room looks like now," explains York, of Harpswell, Maine.
With Bates gearing up for its sesquicentennial next year, York designed the project to expose her fellow students to both the flavor of bygone Bates and some of the college's historic highlights.
"I feel that most students don't know the history of the school," she says. The Bates advancement office hired her to execute the project, whose other aspects include the placement around campus of photos and biographies of notable Bates people.
York is working with archival images that cover slightly more than a century of Bates history starting in the early 1860s. They are sometimes touching, sometimes funny, always fascinating.
A 1922 photo shows pool players working their hard-boiled attitudes harder than their cues. A carefully posed image from 1948 shows students — some in beanies — bowling in the now-dismantled Chase Hall alley. In a 1959 scene (at right), students are having a lively meeting with a tweedy dean over sundaes in the Bobcat Den.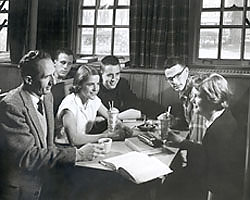 York will hang the photos in a variety of buildings: the Den and other Chase Hall locations; Hathorn Hall, the college's first academic building; even the WRBC-FM studio on Frye Street, which she will decorate with photos taken circa 1950 in the original Bates radio studio, in Chase. Several dorms will receive a poster compilation that shows them in old interior scenes.
York didn't come to Bates expecting to become a campus historian, but as early as her first year she was contemplating some kind of Bates-historical project — originally a video, as a followup to work she did a high school student with Harpswell's public-access television station.
With the sesquicentennial approaching, she says, it's an ideal time to bolster a sense of Bates history among students. "Most students don't even know that the school was founded as a seminary in 1855 by Oren B. Cheney, and that Benjamin Bates" — a Boston manufacturer and early benefactor — "actually had very little interaction with the school aside from a donation and his name."
She adds, "Very few students know that we were the first coeducational school in New England or that we've always admitted African Americans," in keeping with Cheney's rigorous abolitionist views.
The seed of the project lay in the Short Term course "Introduction to Historical Methods," required of all history majors and nicknamed "History Hell" due to its intensity. Examining old textile-mill payroll records as she researched child labor in Lewiston, York found herself hooked on the real-life stories that live between the lines of the documentary record.
In addition to the daily-life photos, York's mining of Bates history extends to a series of articles about college traditions she's writing for The Bates Student. Then there's the so-called "Bates greats" project, which involves mounting, in places where students are likely to examine them, images and short bios of such prominent Bates people as the seven college presidents, legendary faculty (for example, "Uncle Johnny" Stanton, who taught Greek and rhetoric for more than 50 years) and graduates of distinction.
Those last will include people like Benjamin Mays '20, who went on to mentor Martin Luther King Jr. and serve as president of Morehouse College; U.S. Sen. and Secretary of State Edmund Muskie '36; and two "firsts" — Mary Mitchell, class of 1869, Bates' first female graduate, and Henry Chandler, class of 1874, the first African American graduate.
Through the photo project, York is challenging a longstanding aspect of the culture at Bates, a college that tends to downplay its accomplishments even as it makes national best-college rankings with predictable regularity.
"At a lot of other schools, you walk on the campus and they really show off their history," she says. "In Bates' time-honored tradition of modesty, the school doesn't tend to glorify its past. But it's time to start."
View Comments