Men's cross country ninth, women's soccer 21st in national polls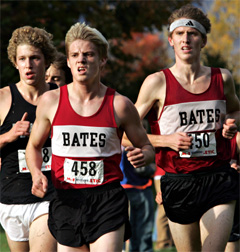 The Bates College men's cross country team is ranked ninth nationally among NCAA Division III institutions, and the women's soccer team made its debut in the national polls on Tuesday, ranking 21st.
The men's cross country team has won three meets this season, including the State of Maine championship last weekend. The Bobcats' lone finish outside of first came at the Open New England Championships, where Bates was 12th overall and fourth among D-III schools. The Bobcats have been ranked nationally all season, with this week's ranking the highest in the tenure of head coach Al Fereshetian, in his ninth season at Bates.
The women's soccer team is ranked third in New England, moving up from sixth last week. The Bobcats, now 8-2-1 overall, 3-2-1 NESCAC, posted a 6-0 win over Skidmore and a 4-0 win over Wesleyan last week. With three games remaining in the regular season, Bates sits in fourth in the NESCAC standings.
The men's soccer team is also regionally ranked, sitting in ninth place in the New England polls. The Bobcats, who tied Wesleyan 1-1 on Saturday, are 7-2-1, 2-2-1 and are in sixth place in the conference standings with four games remaining.
Both soccer teams play a pair of road games this week, facing Trinity on Wednesday and Middlebury on Saturday. The men's cross country team has this weekend off, but will compete for the NESCAC title next weekend at Colby.
Visit the Bates Athletics Web site for the latest information on Bates varsity sports.
View Comments