Attorney discusses civil liberties restrictions caused by war on terror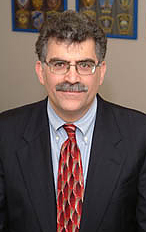 Meeting today with students enrolled in "Wartime Dissent in Modern America" — a course taught by associate professor of history Hilmar Jensen — Boston civil rights attorney Howard Friedman discussed restrictions on civil liberties caused by the war on terror.
"Our constitutional rights to free speech and protection from unreasonable searches and seizures have been limited in the name of the war on terror," Friedman told the students, "yet we are no safer as a result." Friedman discussed examples of official changes in national policy, such as the Patriot Act, and toleration of civil rights violations, such as mass arrests without cause. Jensen's course History 265 explores, in part, what the long-term consequences of even short-term curtailments of freedom portend for the future of American democracy.
An attorney for plaintiffs in civil rights litigation for more than 25 years, Friedman specializes in representing victims of police misconduct; in fact, he was called "one of the foremost practitioners" in police misconduct law by U.S. District Court Judge William G. Young. But Friedman has handled a wide range of high-profile cases, from "Mack v. Suffolk County" (a $10 million settlement on behalf of a class of 5,400 women who were illegally strip-searched) to "Nader v. Commission on Presidential Debates," where Green Party presidential candidate Ralph Nader challenged CPD for refusing to allow him to both participate in and attend an October 2000 debate with Democratic and Republican candidates.
Friedman is the president of the National Police Accountability Project, a project of the National Lawyers Guild that seeks to end police abuse of authority through coordinated legal action, public education and support of organizations combating police misconduct. Friedman works as a key attorney for the National Innocence Project, which uses DNA and other evidence to free those who have been unjustly imprisoned. Boston Magazine recently named him a "Super Lawyer," one of the top 5 percent of Massachusetts attorneys in more than 60 practice areas.
Friedman speaks frequently about civil rights and police misconduct to law-enforcement groups such as the Boston Police Academy, the FBI National Academy Associates of New England and the International Criminal Justice Expo & Conference.Friedman has trained lawyers in civil rights law at continuing education seminars for various groups including the Association of Trial Lawyers of America, the Boston Bar Association, the Maine Criminal Defense Lawyers and the National Lawyers Guild. He has spoken at many Boston-area law schools, including the Boston University School of Law, Northeastern University School of Law, Suffolk University School of Law and Vermont Law School.
The author of various articles for lawyers on civil rights litigation, Friedman received his J.D. from Northeastern University and his B.A. from Goddard College.
View Comments