Phillips Fellowships awarded to three faculty members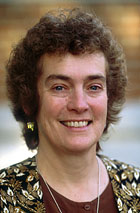 Three members of the Bates College faculty have been awarded institutional Phillips Fellowships to support a full year's leave at full pay for the pursuit of significant scholarship, new research or the development of new courses or pedagogical approaches.
Funded by a college endowment established through a bequest of Bates' fourth president, the late Charles F. Phillips, and his wife, Evelyn M. Phillips, the fellowships honor excellence among faculty.
This year's Phillips Faculty Fellows are Pamela Baker, of Auburn, professor of biology and a member of the college's class of 1970; J. Dykstra Eusden, of South Paris, professor of geology and a member of the class of 1980; and Rebecca Herzig, of Lewiston, associate professor of women and gender studies.
Baker has been invited by the Maulana Azad Dental College, in India, to work with its faculty on incorporating student research into the basic science curriculum. Such a change will require new approaches to education, specifically a shift to a more investigative approach rather than rote memorization of facts — a shift already embraced at Bates, where inquiry-based science teaching and learning are standard practice.
Baker will also study strategies from Indian public health education that can help her integrate a health literacy perspective into her teaching at Bates. Focusing on oral diseases and HIV/AIDS, she will investigate factors influencing how public health initiatives put scientific responses to disease into practice. A key part of the project is to promote cooperation between science educators in India and the United States.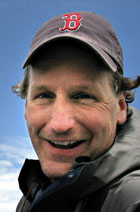 Eusden's project involves field study and three-dimensional modeling of active faults on New Zealand's South Island. He will evaluate the structural geology, fault motions, earthquake hazard potential and landscape development in the Marlborough Fault Zone, an active plate-tectonic setting. The study area is part of the Seaward Kaikoura and Amuri Mountain Ranges, which are currently experiencing rapid uplift.
Based at Canterbury University, Eusden will conduct field research in fall 2005. Geodynamic modeling at the University of Maine will take place the following winter, and in spring 2006 he will return to New Zealand to finish fieldwork and examine regions where modeling and field-based interpretations are at odds.
With the support of her fellowship, Herzig aims to complete a book tentatively titled The Technological Animal: Hair Removal and the Making of Modern America. The project is intended, first, to bring an empirical, historical perspective to recent theoretical debates about the nature of sexual difference, by illuminating some of the mundane practices used to maintain the appearance of sexual dimorphism.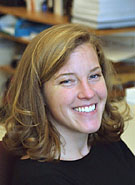 Second, Herzig seeks to elucidate the growth of these practices as indicating larger historical trends — in fact, to use the history of hair removal as a window through which to examine America's political transformation from the Colonial era to the present.
Phillips Fellowship leaves typically take place away from Bates, so that recipients can interact with leading scholars in their fields. The fellowship includes support for the replacement of the faculty recipient, as well as travel expenses to research venues. Two or three of the fellowships are awarded to faculty annually.
The Phillips bequest also supports Phillips Student Fellowships, which afford students the opportunity to undertake research in international and other culturally distinct settings.
View Comments