Operation Iraqi Freedom veteran to make case for war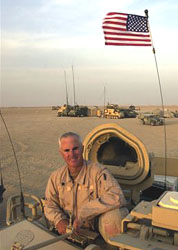 Scott E. Rutter, a retired U.S. Army lieutenant colonel who led his battalion in the capture of Baghdad's airport in 2003, will discuss his Iraq experiences and make a case for the war at 7:30 p.m. Thursday, Feb. 10, in Chase Lounge, 56 Campus Ave.
Sponsored by the Bates College Republicans, the college's Representative Assembly and the Young America's Foundation, the lecture is open to the public at no cost.
As a lieutenant colonel, Rutter commanded some 150 tanks and other fighting vehicles and more than 850 soldiers in a battalion of the Army's 3rd Infantry Division in Iraq. At Bates, he will relate his personal experiences in Iraq and explain his belief that the U.S. military mission there is essential to fighting global terrorism.
Rutter's battalion led the capture of Baghdad International Airport, and he went on to direct the security and stabilization mission in Baghdad's central business and financial district. "He likes to get close to the fight, so close that his soldiers sometimes worry about his safety," wrote Michael Corkery, a Providence Journal reporter embedded with Rutter's battalion. "He insists on traveling into battle with the lead company."
Rutter earlier received a Bronze Star for valor for his service as a rifle company commander in Operation Desert Storm.
A Philadelphia native, Rutter was a military graduate of Campbell University, Buies Creek, N.C. His Regular Army service included stints with the 101st Airborne Division and 1st Infantry Division ("The Big Red One").
An instructor at the United States Army Infantry School during the 1990s, Rutter was appointed chief of tactics for the school in 1995. He later served in Korea. He is a graduate of the U.S. Army's Command and General Staff College at Fort Leavenworth, Kansas, and has a master of science degree in management from St. Mary's College.
View Comments