Lecturers shed light on holography exhibition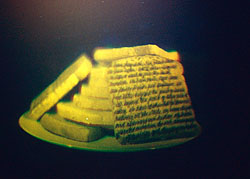 A British holography artist and a member of the Bates College physics faculty offer lectures relating to the current Bates College Museum of Art holography exhibition, The Body Holographic: Harriet Casdin-Silver, at 7 p.m. Thursday, Feb. 10, in Room 104, Olin Arts Center, 75 Russell St.
The speakers are Pearl John, of London, whose talk is titled The Art of Holography; and Hong Lin, professor of physics, whose talk is titled The Physics Behind a Hologram. The event is open to the public at no cost. For more information, please call 207-786-6158.John uses large-format holography as a means of examining self-identity. She combines holographic images with text, video and photography to reach toward meanings that exist at the boundaries between words and images, and between artist and viewer. John's holograms and installations have appeared in Japan, Europe and throughout the United States. She currently teaches laser technology in the United Kingdom.
Hong Lin has been at Bates since 1991. Her research involves crystals that diffract light in different directions, and particularly potential mechanisms for stabilizing these diffractions, which can affect the operation of optical devices.
The Body Holographic, a collection of work by a pioneering figure in the art of holography, runs through March 19. The first American artist to develop a body of holographic work, Casdin-Silver began working in holograms — flat images that appear to represent objects three-dimensionally — in 1968. As the title indicates, The Body Holographic concentrates on the human form and its potential as a site of psychological, sexual and spiritual energy.
The exhibition is made possible by the Synergy Fund, a gift to the museum to explore ideas across disciplines through the arts. The gift is helping the museum and the college to look more creatively at how exhibitions are curated, experienced and communicated to museum audiences.
Showing simultaneously are Between Science and Art, comprising botanical X-ray photographs by contemporary Ohio artist Judith K. McMillan, and New Acquisitions: Local and Global Contemporary Photography, featuring artists from Maine, China and Africa.
A member of the Maine Art Museum Trail, the Bates College Museum of Art is open to the public at no charge. Museum hours are 10 a.m. to 5 p.m. Tuesday through Saturday. School groups and tours are welcome; please call 207-786-8302 to schedule.
More information is available at the museum's Web site.
View Comments