World Music Weekend features gamelan, steel pans, African drumming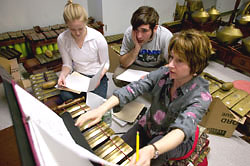 Offering music from Caribbean, Indonesian and African traditions, this year's World Music Weekend at Bates takes place Friday through Sunday, March 4-6, in the Olin Arts Center, 75 Russell St.
Performers include the college's steel pan and gamelan ensembles, Auburn violinist Greg Boardman, and Jordan Messan Benissan, a drummer from Togo, West Africa. Admission is free and open to the public. For more information, please call 207-786-6135.
"The Bates music department is committed to broadening our students' exposure to live music from traditions outside of Western popular and art musics," says Gina Fatone, visiting assistant professor of music. "That's what this weekend is about."
World Music Weekend opens at 8 p.m. Friday with a concert in the Olin Arts Center Concert Hall. The performers are the Gamelan Mawar Mekar, a percussion-based orchestra playing the gamelan music of Java, Indonesia; the Blazing Sun Steel Pan Orchestra, performing Caribbean pan music; and Boardman, who will join the gamelan on a piece by renowned composer Lou Harrison.
Starting at 2 p.m. Saturday, two Bates seniors discuss their musical research. Gregory Rosenthal of Schenectady, N.Y., begins with a talk titled Courtship Rituals of the Yi People of China. At 3 p.m., Joseph Maurey of Germantown, Tenn., offers the lecture From Calypso to Symphony, looking at the musical traditions of Trinidad.
The location of the talks is Olin's Room 105.
On Sunday, following a drumming workshop, Benissan and his band Sankofa perform at 7:30 p.m. in the concert hall, combining modern and traditional rhythms and songs. Steeped in the music of the Ewe people, Benissan has performed and given workshops throughout the United States to children and adults. He lives in Waterville.
His recordings include "Beautiful Music from West Africa," nominated for Best World Music by Phoenix Magazine, and "Let Me Play My Music," featured as an Open Mic selection on National Public Radio's "All Songs Considered" program. Benissan's fourth album is slated for release this summer.
View Comments