Bates photographer captures sense of place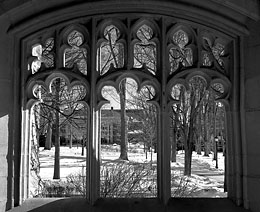 As Bates College celebrates its sesquicentennial year, senior Alexander Verhave of Wellesley, Mass., has mounted an exhibit of black and white photographs titled Bates College 2005. On display in Chase Hall Lounge through May 22, the 20 photographs include contemporary landscape and still life compositions of Bates College taken by Verhave, a geology major and photography editor of The Bates Student, the campus newspaper. The photographic series "portrays the places and sights that have defined my four years at Bates," says Verhave. The exhibit is supported by funding from the Office of the Vice President for External Affairs.
Verhave planned the photo essay in response to the college's announced plans to grow physically, including the building of a new dining hall and student housing. As Bates expands, "it is important to document and reflect on where the campus stands today, after 150 years," says Verhave.
"Bates possesses a unique aesthetic quality among colleges around the country. It is a welcoming place where you can step off the paved path and choose your own course across the grass and through your studies," Verhave says.
View Comments