International choreographers perform at the Bates Dance Festival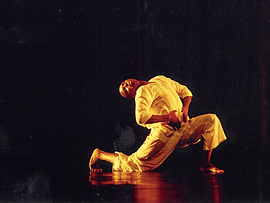 The annual Different Voices concert features an inspiring night of dance from around the globe as visiting artists from the United States, Mexico, Indonesia, Japan, South Africa and the Democratic Republic of the Congo bring new works to the Bates Dance Festival stage. The Different Voices concert will take place at 8 p.m. Friday, Aug. 12, in Schaeffer Theatre. Tickets are $18/$12 (students and seniors) and may be purchased by calling 207-786-6161 after July 9. (This performance is appropriate for an audience of all ages.)
Soweto-born dancer-choreographer Vincent Sekwati Koko Mantsoe returns to the festival with work that fuses his ancestral traditions with an inspired blend of Asian and European dance elements. His work combines themes of cultural alienation and identity with an intense physicality and charisma that have won accolades and awards worldwide. Mantsoe has created works for Moving Into Dance, Dance Theatre of Harlem, Inbal Dance Company of Israel and Skanes Danse Teatre in Sweden. He recently completed a highly acclaimed U.S. tour.
Representing the vanguard of Japanese contemporary dance, internationally renowned choreographer Kota Yamazaki will showcase an excerpt from his latest work. A contemporary performer whose training includes butoh, classical ballet and modern dance, Yamazaki finds his originality by focusing on the art of his own body and not in any tradition or technique.
Award-winning choreographers Faustin Linyekula and Gregory Maqoma share new works infused with a contemporary African sensibility. Linyekula directs the Studios Kabako, a center dedicated to dance and visual theater training, research and creation based in the Congo's Kinshasa. He has collaborated with artists across Europe in the development of multidisciplinary works. Maqoma has received many dance and choreography awards, including FNB Vita Choreographer of the Year in 2000, 2001 and 2002. He has created works for Moving Into Dance, The Dance Factory, Jazzart Dance Company and Adzido Pan African Dance Ensemble in London.
Exceptional Javanese dancer Mugiyono Kasido was born to a dalang (wayang puppet master) family. He studied traditional dance at the Mangkunegaran Palace and ritual movement with Suprapto Suryodarmo. He has worked with contemporary master Sardono W. Kusumo for many years. Kasido creates contemporary work based on Javanese traditional arts.
Currently associated with Ronald K. Brown/EVIDENCE, emerging choreographer Shani Collins has performed with Marlies Yearby's Movin' Spirits Dance Theater, Nathan Trice/Rituals and Urban Bush Women. Her work tells powerful stories with authenticity and truth.
In addition to main stage performances, the festival offers a selection of free and low-cost events. Complete information is available at the website: https://www.bates.edu/dancefest
View Comments