Fund drive under way as a vigil is planned for victims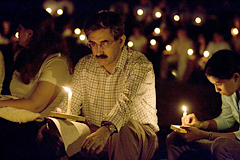 The Bates College community has launched the Katrina Relief Initiative (KRI), a fund-raising effort spearheaded by students, faculty and staff, and supported by the Office of the Chaplain and the Harward Center for Community Partnerships.
"We have adopted a goal of raising $15,000 from the Bates student body – about $10 per student – marking the college's sesquicentennial anniversary," says student organizer Christopher Petrella, a senior from Somers, Conn. Bates students are challenging faculty and staff to match their fund-raising efforts with an additional $15,000. The fund-raising will commence at the end of the week.
KRI will donate the bulk of the funds raised to the Red Cross for Gulf Coast relief efforts. Because the effects of Katrina also extend to the Maine community, organizers also hope to donate a portion of the funds to the Leeds-based Rural Community Action Ministry for heating oil assistance to Maine families in need.
The Harward Center is setting up a special account for donations and will bundle checks and cash. Contributions can be dropped off or mailed to the Harward Center, 161 Wood St., Lewiston, to the attention of Marty Deschaines, community volunteer coordinator.
In another dimension of the college's response to the hurricane's devastation, a candlelight vigil for the victims of Hurricane Katrina will be held at 8 p.m. Thursday, Sept. 8, on the steps of the Keigwin Amphitheater, adjacent to Lake Andrews and behind the Olin Arts Center. The public, including children and families, is invited to participate, and candles will be provided. The chaplain's office and the Harward Center join in sponsoring the event.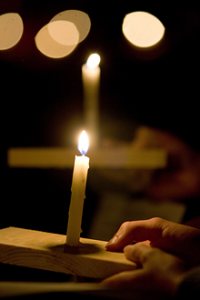 People often incorrectly view a vigil as a passive act, says Rachel Herzig, interim director of the Office of the Chaplain, whereas a more accurate way to view the word is as a verb: "to vigil, to be vigilant, to stand in solidarity with those who are suffering by opening our hearts, minds and spirits to their pain and loss." Herzig points out that "to truly open up to another's pain and stay present, not trying to smooth it over or away, not trying to transcend it too soon, is an act of great courage, compassion and stamina."
The vigil is intended primarily as a spiritual event, Herzig says. However, donations to the Katrina Relief Initiative will be gratefully accepted during the gathering.
For more information about the vigil or fundraising effort, please call 207-786-8272.
View Comments