Video-performance artist Gilmore '97 shows, discusses work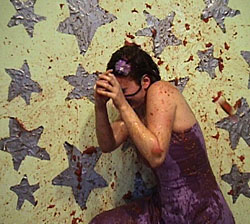 Kate Gilmore, a New York-based video and performance artist, visits Bates College to present a video lecture about her work at 6 p.m. Thursday, March 9, in Room 104 of the Olin Arts Center, 75 Russell St.
Sponsored by the Bates Alums in the Arts Series, the presentation is open to the public at no cost. For more information, please call 207-786-6158 or visit this Web site.
Gilmore, a member of the Bates class of 1997, was the 2005 recipient of the New York Foundation of the Arts Fellowship for Performance. She makes installations that incorporate video, performance and sculpture. "Through the use of humor, these installations attempt to address the fears and insecurities of daily existence," her artist's statement explains.
In her video narratives, Gilmore seeks to "speak to the struggles of everyday life and the different methods we use to make sense of it all," she writes. "In each, I play a character confronted by precariously built environments or chaotic situations that force her into awkward and compromising positions. Determined to make sense of the space despite the endless obstacles, each character repeatedly attempts to control this utterly uncontrollable environment."
The works she will present at Bates include "My Love is an Anchor," in which Gilmore's character tries to free her foot from a bucket of plaster; "Cake Walk," depicting her attempts to roller skate up a syrup-covered ramp in order to reach the prize of a chocolate cake; and "With Open Arms," in which the protagonist ends a performance and receives not the expected applause, but a shower of tomatoes.
At Bates, Gilmore double-majored in art and history. Robert Feintuch, of the studio art faculty, and Elizabeth Tobin, in history, were two important influences. Feintuch, a painter who has exhibited in the Northeast and in Europe, "was really my first contact with 'contemporary art,' " Gilmore says. "He exposed me to all different forms of art-making and helped me to understand the different approaches one can take in making art and expressing one's self."
Tobin was Gilmore's history thesis adviser. "The classes I took with her were incredibly inspirational for my thesis and my artwork," she says. "I think, at the end, the two subjects really melted together."
Gilmore received her MFA in 2002 from the School of the Visual Arts, in New York City, and currently resides in New York. Her work was included in the P.S. 1-Museum of Modern Art joint exhibition Greater New York 2005 and in Open House: Working in Brooklyn, a group show at the Brooklyn Museum of Art. She has also shown at diverse galleries in the Northeast and in venues in Japan and Austria.
View Comments