Two concerts, 88 keys equal a great weekend in Olin Concert Hall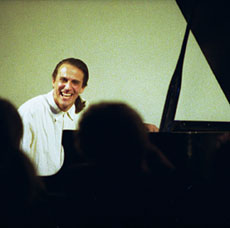 One of them classical, the other jazz, two concerts feature standout Maine pianists this weekend at Bates College.
Frank Glazer, a resident artist at Bates College since 1980 and perhaps Maine's best-known pianist, plays a program including music by Arnold Schoenberg, with whom he studied, at 8 p.m. Friday, April 28, in the Olin Arts Center Concert Hall, 75 Russell St.
Also in Olin, a quartet led by Portland pianist Tom Snow kicks off three weeks of jazz concerts at 8 p.m. Saturday, April 29.
Both concerts (and the additional concerts described below) are free and open to the public. For more information, please call 207-786-6135.
Glazer's program includes "Sechs Kleine Klavierstücke" ("Six Little Piano Pieces"; Op. 19) a 1911 work by Schoenberg, one of the pioneers of modern art music and the tone-row method of composition. Glazer, sent at age 17 to Berlin by a patron to study with the great pianist Artur Schnabel, also studied counterpoint with Schoenberg during that time, shortly before the composer fled the Nazis and went to America.
Also on the program are Franz Schubert's Sonata in A minor (D. 845), Johannes Brahms' Waltzes (Op. 39), and three works by Frederic Chopin: Berceuse (Op. 57), Impromptu in G-flat Major (Op. 51) and Scherzo in C-sharp Minor (Op. 39).
Director of the Bates College Jazz Band and a member of the music faculty, Tom Snow is one of Maine's most versatile and sought-after musicians. For the April 29 show, the Tom Snow Quartet will explore the classic 20th-century standards often referred to as the "great American songbook." Joining Snow are saxophonist Ralph Norris; bassist Marshall Wood; and drummer Les Harris Jr.
The Snow event and three other jazz performances in the coming weeks constitute the Olin Arts Center Jazz Concert Series: a trio headed by saxophonist David Wells on Friday, May 5; music by composer-bassist Sam Sherry with his band Ursa Major on Friday, May 19; and an evening of guitar-driven standards by the Ken Labrecque Quartet on Saturday, May 20.
An additional jazz program in Olin, independent of the series, features a trio led by jazz guitarist Sheryl Bailey at 8 p.m. Saturday, May 6.
Glazer, 90, is an artist of international stature who taught at the Eastman School of Music for 15 years before retiring to Maine with his wife, Ruth, in 1980. The couple founded the Saco River Festival, which is held in Cornish every summer. Frank Glazer's long career includes numerous recordings, his own television program in the 1950s and countless solo recitals and performances with orchestras and chamber ensembles, including the New England Piano Quartette, of which he was a founder.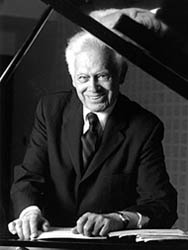 A graduate of the New England Conservatory and the Berklee College of Music, Snow has played with such jazz luminaries as Dave Holland, Greg Abate, Larry Coryell, John Lockwood and Herb Pomeroy. He has recorded on the Telarc and Origin labels and has two CDs as a leader: Christmas at Mast Cove (2001), and Northern Standard Time (1997).
Along with Wells himself, the David Wells Trio includes two other figures well-known in Maine's jazz scene: guitarist Tony Gaboury and drummer Steve Grover. The threesome will perform music from their upcoming CD, along with compositions by such pioneers as Charlie Parker.
Wells has performed in the United States and Europe with artists such as Rosemary Clooney, Lionel Hampton, Dee Dee Bridgewater, the Count Basie Orchestra and John Handy. Wells and Grover are both members of the Bates music faculty, and Wells directs the Westbrook High School Jazz Band.
Sheryl Bailey who performs at Bates as part of a six-day residency connected with the Short Term course "Exploring Jazz Guitar," is ranked among the foremost bop-based guitarists to emerge in the 1990s. Her trio, the Sheryl Bailey Three, includes Gary Versace on Hammond B3 and Ian Froman on drums, and conjures the essence of the Grant Green/Larry Young/Elvin Jones band of the late 1960s.
Joining Sam Sherry in Ursa Major are Chris Humphrey, piano and vocals; saxophonists Matt Langley and Dylan Sherry; and drummer Jan van Voorst van Beest. Their Bates performance will feature selections from "Echoes of 'The Prophet,' " a recording covering the spectrum of jazz styles and including lyrics adapted from Kahlil Gibran's "The Prophet."
The Olin jazz series closes with the Ken Labrecque Quartet, the music of Coltrane, Parker, Rollins and others. Bates guitar instructor for more than 20 years, Labrecque will be joined by Maine musicians Richard Hollis, drummer; Greg Lindholm, bassist; and Darren Whitney, saxophonist.
Labrecque has been an artist in residence at the Turner Alternative School and has taught guitar at the Maine Jazz Camp and at Fryeburg, Gould and Hebron academies. He teaches at the University of Maine at Farmington as well as at Bates. He is currently recording an album of jazz standards and classical works.
View Comments