Nicoletti's Method: 'Sharp Pencils and Sweat'
From himself and his students, painter Joseph Nicoletti seeks what's real
By Edgar Allen Beem
"Generally speaking, my work is about the past, both personal and historical," painter and Bates lecturer Joseph Nicoletti told the dozens of friends, family, colleagues, and former students assembled for the June 12 opening of his elegant exhibition at the Bates College Museum of Art.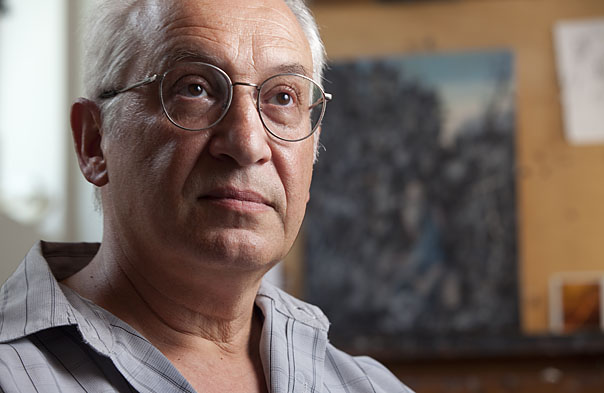 Joseph Nicoletti: A Retrospective (through Sept. 25, 2010) features 60 paintings and drawings that survey Nicoletti's career from 1971 to the present. The masterful still-life, landscape, and figurative works provide clear, quiet, and convincing evidence why Nicoletti, a modest man loathe to promote his own art, is considered a painter's painter, one of the most respected artists in Maine.
But what the Nicoletti retrospective honors as much as 40 years of painting is 30 years of teaching at Bates. And if his art is about the past, his teaching is all about the future.
At the exhibition opening, Carl Benton Straub, professor emeritus of religion and former dean of the faculty, related how a first-year student had recently said this about Nicoletti: "He always recognizes and celebrates achievement, however small."
"My friends," enthused Straub, "that is what this place is all about. That is what teaching is all about."
Nicoletti began teaching at Bates in 1981. In recent years he has taught drawing, figure drawing, and painting during the fall and portrait painting during Short Term.
"I really believe in a liberal arts education for an artist," says Nicoletti of his teaching career. "Ideas can come from anywhere — art history, science, literature. I had a liberal arts education and I think the exhibition shows that."
Born in Italy in 1948, Nicoletti grew up in New York City. He received a B.A. from Queens College in 1970 and an M.F.A. from Yale in 1972.
A classic realist in the studio, Nicoletti is also a pragmatic realist in the classroom.
"I recall him scoffing at the notion of talent," recalls Christopher Sokolowski '90, a paper conservator at Harvard's Weissman Preservation Center. "What counted for him — quickly adopted by me — was the regular, serious practice of drawing from the figure, geometric shapes, and the landscape. He wanted to see sharp pencils and sweat in that studio."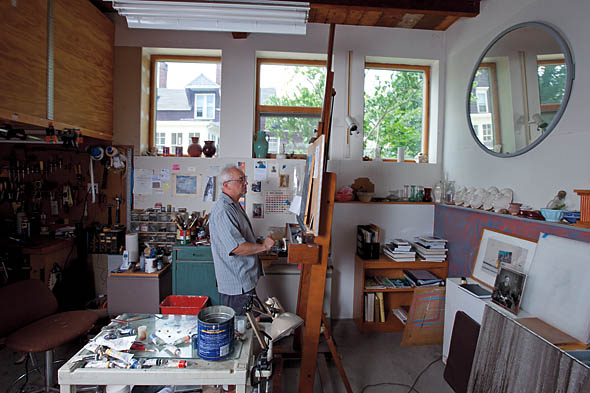 "I focus on representation and perception," Nicoletti explains. "Having a good strong base of perception of the world out there is critical for any kind of artist. I'm teaching them how to see. It's as simple as that."
Art department chair Rebecca Corrie praises Nicoletti as "a rigorous teacher, loved and admired by his students" — whether they're art majors or not.
"Talent is cheap — being an artist is about work and a lot of thinking. It's an intellectual exercise."
"If a student is not going to be a studio major, and if they are going to become a lawyer or a psychologist," he says, "I want them to see the world differently because of taking a class with me."
Nicoletti's own art education took place at what he calls "a macho time in teaching."
"Teachers tried to break you down and make you stand up," he says. "I don't think it's the best approach."
Along with a rigorous program of drawing and painting, Nicoletti shows a lot of slides to familiarize students with the history of art, assigns a lot of copy work as a good way to learn craft, color, and composition, and holds group crits in order to teach students to become their own best critics.
"For all he taught me about figure drawing, color theory, and landscape painting," says Matt Tavares '97, an award-winning children's book author-illustrator, "I think the most valuable lessons I learned from Joe are the pointers he gave me about the day-to-day work of being an artist. He stressed the idea that being an artist takes hard work, self-discipline, and dedication."
"Being an artist is a tough life," Nicoletti says. "I'm tough because students need to realize that it's not a fuzzy-wuzzy thing about having talent. Talent is cheap — a lot of people have talent. Being an artist is about work and a lot of thinking. It's an intellectual exercise — not just manual skills."
"I always appreciated how serious he was," says Kelsey Engman '07, a studio art major now doing graduate work in creative writing. "I knew I could trust the criticism and the encouragement he gave me. He doesn't give false hope."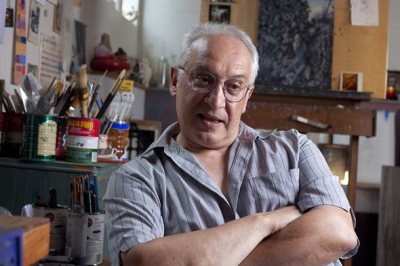 It's fashionable among artists to complain about having to teach, about how draining it is and how much time it takes away from an artist's own practice.
But you don't hear that from Nicoletti.
"In the last 10 years, I've realized that I would miss teaching," he says. "It gives me a kind of joy I can't get from painting. If I've made any mark in this world — and it's just a scratch — it's more because of my teaching than my art."
Freelance writer Edgar Allen Beem writes the blog "Just Looking: New England Art" for Yankee Magazine.
View Comments