Supreme Court affirms Muskie's environmental legacy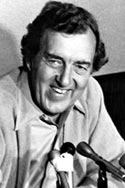 The environmental legacy of the late U.S. Sen. Edmund Muskie '36, who was dubbed "Mr. Clean" for spearheading clean water and air laws in the 1960s and 1970s, found its way into a Supreme Court ruling May 15.
The ruling, affirming the states' right to regulate river water quality, was handed down in a Maine case. At issue was whether a Westbrook paper company needed state licensing to operate five company-owned hydroelectric dams on the Presumpscot River. The state, wishing to use the licensing procedure to force the company to make dam improvements, argued for the power to license under the Clean Water Act of 1970. The company argued that dams weren't covered under the law.
Writing a unanimous opinion, Justice David Souter championed the Clean Water Act and Muskie's vision of states having ultimate control of their rivers, not the federal government. He quoted from Muskie's 1970 floor speech in the U.S. Senate as the Rumford native introduced the legislation:
"No polluter will be able to hide behind a federal license or permit as an excuse for a violation of water quality standards," said Muskie. "No polluter will be able to make major investments in facilities under a federal license or permit without providing assurance that the facility will comply with water quality standards. No state water pollution control agency will be confronted with a /fait accompli/ by an industry that has built a plant without consideration of water quality requirements."
View Comments