Godsey breaks own NCAA Division III record in hammer throw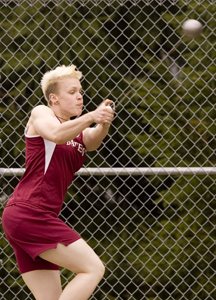 A year ago, Bates College senior Keelin Godsey set the NCAA Division III Outdoor Track & Field Championships record in the women's hammer throw, at 195 feet and 4 inches.
On Friday at Benedictine University, Godsey's hammer traveled far beyond that mark all day long, en route to winning a second straight NCAA championship in his best event.
Godsey set a personal and school record on his final throw of the day, at 206 feet and 5 inches. Knowing the throw was a good one as soon as he released it, Godsey jumped up and down in celebration.
"It was my last throw, so I just want to go all out," Godsey said via cellphone. "I was trying to go as fast as I could while keeping control. This one I got.
"I was telling myself today, 'This is my day, my event, and no one can take it from me.' It worked out for me. This was a great way to end my year at Bates."
Godsey's closest competitor, Wisconsin-Oshkosh senior Robyn Jarocki, was over 14 feet behind, at 191-10 — "The closest anyone's ever been behind me," Godsey said. The third-place finisher, Jarocki's senior teammate, Danielle Rankin, was nearly equally as far behind Jarocki, at 176-6.
Godsey threw as far as 203 feet and 6 inches during the first round of the competition — more than enough to set the meet record and pocket the championship.
"This year's been my best year, and I know I've matured as an athlete," Godsey said. "I always do my best to be a competitor, and I had to get one more good throw in."
Godsey's achievement also gives him 15 All-America honors in his collegiate career, with one event left. Godsey will compete in the shot put Saturday in his last performance in a Bates uniform.
"It was an amazing feat from an amazing athlete," said Bates women's track and field coach Jay Hartshorn. "He had already broken the national record by eight feet, but on his last throw as a Bates athlete, he set a bar that will make it a really long time before anybody matches it. That's Keelin; that's what he does."
View Comments