John Tagliabue, professor emeritus of English, dies at 82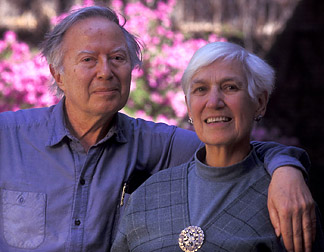 Professor Emeritus of English John A. Tagliabue, a member of the Bates faculty from 1953 to 1989 and author of six books of poetry, including New and Selected Poems, 1942-1997 (National Poetry Foundation, 1998), died May 31 in Providence, R.I., where he had lived with his wife, Grace, since 1998.
He was 82. In addition to Grace, whom he married in 1946, he is survived by two daughters, Francesca Tagliabue and Dina Tagliabue; and four grandchildren, Phoebe and Alexander Gould, and Juniper and Terra Tagliabue.
The family will hold a private memorial gathering in Providence on July 1.
John Tagliabue was born in Cantu, Italy, in 1923, and came to America with his family at age 4, growing up in New Jersey. A 1997 profile in The Bates Student described Tagliabue the child "as a wanderer" who enjoyed taking the 42nd Street ferry to New York City, where he said he would "walk all day" on the city streets.
He attended Columbia University, where he was encouraged to write by the poet Mark Van Doren. He also pursued dance. "The most natural actions for me are dancing and writing poetry," he once said. "Otherwise I feel a little awkward."
After graduating from Columbia in 1944, he taught at the American University in Beirut. He subsequently studied in Florence, and won a Fulbright grant to teach at the University of Pisa (it was one of several Fulbrights, his final one coming in 1993-94 to lecture and give readings in Indonesia). He later would teach in Tokyo and at Fudan University, in Shanghai. Prior to his appointment to the Bates faculty, he taught at the State College of Washington and Alfred University.
At Bates, he taught "Cultural Heritage," "World Literature" (which introduced Asian literature into the Bates curriculum), "The Short Story" and "Writing on the Maine Scene," as well as courses focusing on Shakespeare, major American writers and modern poetry. Of his generous spirit with his students, Tagliabue once said, "I love to sound off with praise…a way of lifting the self and the world…as if it's a holiday." He welcomed students into his and Grace's home regularly, hosting what became known as "United Nations of Poetry" gatherings of students who read their poetry.
He published thousands of poems, and he once called his poetry "on-the-spot lyicism. My poetry is not sedentary or academic ­­— there's a lot of song and dance to it." As there was in his Bates career. In 2003, upon the dedication of the John Tagliabue Prize in Creative Writing, fellow poet Rob Farnsworth noted Tagliabue's "passionate dedication…to his writing and to his teaching, as well as the example of his omniverous imagination, by which all his travels, in body and mind, come together in praises wry and joyful, ecstatic and generous." Tagliabue elicited laughter by replying, "Oh, Rob, you know how I love to be loved."
Tagliabue studied at Columbia alongside Jack Kerouac and Allen Ginsberg, yet pursued a much different style than those Beat Generation peers. Ginsberg, a friend of Tagliabue's, "tried to get me into that group," he told The Bates Student in 1997. More inclined to hang out with friends in the dance community in Greenwich Village, Tagliabue would decline. "I instinctively wasn't interested," he said. Tagliabue's poetry, Booklist noted, "demonstrates a certain eclecticism in his approach, uniting an almost old-fashioned technicality…with Eastern philosophy and culture, and an acute interest in and absorption of the natural world." His poems "are often graceful, fluid and lyrical, while simultaneously exploring the boundaries of thought and poetic structure."
He was something of a poet of record for Bates, composing and sharing many poems reflecting campus or personal milestones, or events in the lives of friends. He would say, of his poetry written during times of controversy, "All art is political. All art reveals values." When John Kennedy was assassinated, a Tagliabue poem, "Cortege / 1963," was published in the Student:
The shadow of the horseless rider in the sun;
the casket drawn slowly; over the face of the dead Hero
the stars; in the memory of the lovers the stars.
He was a frequent visitor back to Bates, and at Reunion 2004 he joined a writers' discussion with poet Pam Alexander '70 and novelist Elizabeth Strout '77. After his visit, he sent this poem to Bates Magazine:
Of course
they made the most of it in Italian Operas,
extended repetitions
of Addio, Addio, Farewell repetitions with
varied trills,
sustained narcissism of farewell, I give my
body away, to
air, earth, to sea, to God knows What;
whatever you do
do it with undulations of song, comedy if
possible, coughing
or snorting or if fortunate cavorting.
I adore you, Sing
O audiences, former students who are former
teachers,
keep paying for my upkeep, keep my company
with
Shakespeare, Blake, Farewell, my Fancy (Whitman);
Fare Well,
my sailing or flying or ambling poems, Fare Well
lyrically
with fanfare of cadenzas, my future readers of poems,
keep the
dialogue lushly operatic; Rejoice Rejoice, extend
and again
extend the many undulating Performances, O Partners
in the Arias.
View Comments