Marc Bamuthi Joseph presents 'Scourge' at Bates Dance Festival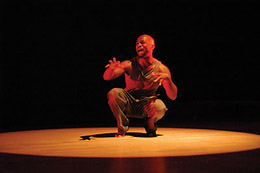 Spoken word dynamo Marc Bamuthi Joseph presents his latest full-evening work, Scourge, fusing hip-hop, spoken word, dance and live music. The Bates Dance Festival presents Bamuthi at 8 p.m. Friday and Saturday, July 28 and 29, in Schaeffer Theatre, 365 College St., Bates College. Tickets are $18/$12 (students and seniors) and may be purchased by calling 207-786-6161 after July 8. (This performance contains some strong language.)
In Scourge Bamuthi explores the narrow space between history, myth and speculation in a revolutionary look at the tragic history of his native Haiti. Breaking down the boundaries of racism and ignorance to reach a new kind of understanding, "Scourge" is a rich collaboration between Bamuthi, choreographers Rennie Harris and Adia Whitaker and director Kamilah Forbes. These artists, together with the voices and rhythms of three gifted musicians, create what Bamuthi calls "a theatrical exorcism."
Bamuthi is a National Poetry Slam champion, 2003 GOLDIE award winner, former Stanford University Institute for Diversity in the Arts resident artist, Broadway veteran and a featured artist on the past two HBO seasons of Russell Simmons' Def Poetry. His previous evening-length work, Word Becomes Flesh, was called "remarkable" by The New York Times and "extraordinary" by The Washington Post, and prompted The Seattle Times to name him their "Cutting Edge Performer of the Year" in 2003.
Bamuthi's performance schedule has carried him from dance apprenticeships in Senegal and Cuba to teaching fellowships in Bosnia and Japan. During the next two years, he will develop new projects with Le Centre Nationale de Dance, the National Dance Project and the International Theater Institute, where his work will be performed in France, Zaire, Germany and the Philippines. His proudest collaboration has been with Youth Speaks, where he mentors 13- to 19-year-old writers and co-curates the Living Word Festival for Literary Arts.
In addition to main stage performances, the festival offers a selection of free and low-cost events. Complete information is available at the website.
At press time the Bates Dance Festival gratefully acknowledges support from the National Endowment for the Arts, New England Foundation for the Arts, National Performance Network, Maine Arts Commission, Surdna Foundation, Asian Cultural Council, Altria, Fisher Charitable Foundation, Sam L. Cohen Foundation, Androscoggin Bank, Cole Hahn, Liberty Mutual Insurance, Mechanics Savings Bank and TD Banknorth.
View Comments