Willett '73 named chair of the Bates board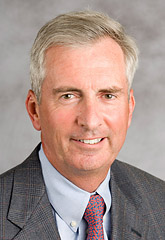 Joseph T. Willett '73 of Ridgewood, N.J., has been elected the new chair of the Bates board of trustees, President Elaine Tuttle Hansen and trustees have announced. Willett succeeds Burton M. Harris '59, who retired from the board following 23 years of service, including five as chair.
Willett served as chief operating officer for Merrill Lynch Europe, Middle East and Africa, based in London, England, from 1998 until he retired and returned to the United States in 2002. He joined Merrill Lynch in New York City in 1982 as director of financial planning and served the company in several positions, including senior vice president and chief financial officer from 1993 to 1998.
Previously, Willett was a vice president with Chase Manhattan Bank, where he began working in 1975. He is a director of the Marsico Investment Fund LLC and a member of the Executive Advisory Committee of the University of Rochester's William E. Simon Graduate School of Business, where he earned his business degree in 1975.
At Bates, Willett was a Dana Scholar with a dual major in economics and mathematics. He received high honors in economics, graduating cum laude with membership in Phi Beta Kappa. He was co-captain of the varsity golf team for two years and was elected to the College Club (now the College Key) upon graduation.
In Bates affairs, Willett has served as an Office of Career Services Career Adviser, a member of the Bates Fund Committee, a President's Club volunteer, and co-chair of the New York regional effort of the College's comprehensive campaign that concluded in 1996. From 1997 to 1999, Willett was national chair of the Bates Fund. In 2003, Willett served as co-chair of his 30th Reunion Gift Committee.
Willett was elected to the Board of Overseers of the Bates Board of Trustees in 1995 and to the Board of Fellows in 1999. He was co-chair, with fellow trustee Thomas Renyi, of the Campaign Committee for the successful $120 million campaign, Endowing Our Values. The campaign concluded June 30, raising $120.9 million. Willett was elected chair of the board of trustees in May 2006 and began duties June 1.
Willett and his wife, Janice, have three children.
In 2001, the Willetts established an endowed economics professorship at Bates in honor of Thomas Sowell, the economist, writer and commentator called by the Washington Post America's "most valuable public intellectual" for his challenge to orthodox thought across the spectrum of society.
View Comments