Timothy McCall '08 researches Lewiston's Jewish community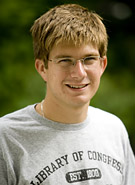 A visit to the local Jewish cemetery taught Timothy McCall '08 of Lawrenceville, N.J., a timeless lesson in history.
After spending the summer researching the livelihoods of Jewish merchants who arrived in Lewiston-Auburn in the 1870s, first from Germany and then from Eastern Europe, McCall decided to "fully connect with the community" by visiting the graves of individuals whose names he recognized from weeks of primary-source research.
McCall, a double major in History and German, had been comparing the history of the Jewish community to the larger economic story of the twin cities of the Androscoggin. "The Jews were very much dependent on the mills for their livelihood and the solvency of their businesses," McCall writes. As the area's once thriving textile and shoe mills disappeared, so too did the Jewish community shrink. "For the Jewish merchants, the closures meant their loyal customers were without jobs and without disposable income." Read more here.

View Comments