Harvard professor discusses the shaping of Christianity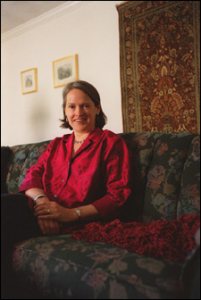 Karen Leigh King, Winn Professor of Ecclesiastical History at Harvard Divinity School, will give a presentation titled The Shaping of Christianity: Gospel Discoveries from the Egyptian Desert at 7 p.m. Wednesday, Jan. 17, in the Edmund S. Muskie Archives, 70 Campus Ave., at Bates College. The public is invited to attend the 2006-07 Zerby Lecture in Contemporary Religious Thought, sponsored by the chaplain's office, free of charge. For more information, call 207-786-8272.
Trained in comparative religions and historical studies, King teaches and researches the history of Christianity and women's studies. King's books include Reading Judas: The Gospel of Judas and the Shaping of Christianity, The Secret Revelation of John, The Gospel of Mary of Magdala: Jesus and the First Woman Apostle, Revelation of the Unknowable God" and "What is Gnosticism? King has edited Images of the Feminine in the Gnosticism and Women and Goddess Traditions in Antiquity and Today.
Appointed to Harvard Divinity school in 1998 and Winn Professor since 2003, King has received many research grants and awards for excellence in teaching and research; among them are grants from the Ford Foundation, the National Endowment for the Humanities, Deutsche Akademische Austauschdienst and the Graves Foundation.
The annual Zerby lecture honors the late Rayborn L. Zerby of Lewiston, professor emeritus of religion and dean of the faculty at Bates. Each year, the program brings to campus leading commentators on contemporary religious thought. Previous Zerby lecturers have included Holocaust chronicler Elie Wiesel and Harvard University theologian Peter J. Gomes, Bates class of 1965.
View Comments