Student choreographers, lighting designers collaborate for dance concerts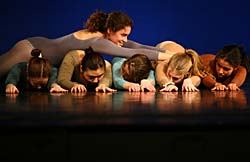 Performing two separate programs twice, the Bates College Modern Dance Company presents the results of an innovative collaboration with theatrical lighting designers at 7:30 p.m. Friday and Saturday, March 30-31; 2 p.m. Sunday, April 1; and 7:30 p.m. Monday, April 2.
Program A is offered on Friday and Sunday, and Program B on Saturday and Monday. Performances take place in Schaeffer Theatre, 305 College St. Admission is $6 for the general public and $3 for non-Bates students, senior citizens, and Bates faculty and staff.
For more information, please call 207-786-6161.Thirty-two dancers and choreographers will take part in the two programs, and three of the dances will be accompanied by music performed or composed by Bates students.
Aptly titled Novel, the overall project comprises 12 pieces. The choreographers are students in the course "Dance Composition," taught by Sarah McCormick, acting director of the dance program. They collaborated with students in the course "Lighting Design: The Aesthetics of Light," as well as with the course's instructor, Michael Reidy.
"Michael and I just put our students together and they sat on the floor talking away," says McCormick. "The assignment for each choreographer entailed choosing a piece of literature — hence Novel for the concert title. And this engaged the lighting designers to consider a myriad of lighting images, colors, stage designs and so on."
She added, "Choreography might be defined as creating or designing movement in space, but the full exploration of lighting, costuming and how the dancers interpret the movement is what makes dance an exciting and thrilling art form."
To see all events open to the public at Bates this month, visit the online Public Events Calendar.
View Comments