Kevin McHugh appointed director of athletics at Bates College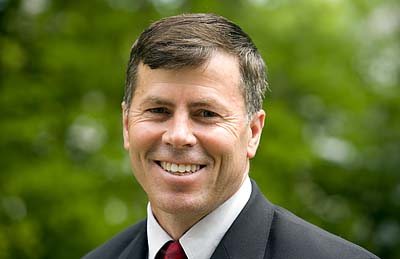 Kevin McHugh of The College of New Jersey has been named director of athletics and chair of the Department of Physical Education at Bates College, effective July 1. McHugh's appointment, the result of a six-month national search, was announced today by President Elaine Tuttle Hansen.
At The College of New Jersey, McHugh has served as director of athletics since 1987 and also recently as executive director for student development and campus programs. He oversees a nationally successful 20-sport varsity intercollegiate program, as well as intramural, club sport and recreation programs. He also heads the Department of Campus Activities, which oversees the college's 180-plus student organizations.
"Kevin McHugh comes to Bates with a well-earned and wide-ranging reputation as a strategic thinker, a hard worker and a strong leader both at The College of New Jersey and on the national college sports scene. His life and career exemplify the finest qualities of athletic leadership, and we are very pleased that he will be joining Bates as director of athletics," said President Hansen.
At Bates, a member of NCAA Division III and the New England Small College Athletic Conference, the 50-year-old McHugh will oversee a department comprising 30 varsity sports and 12 club sports, in addition to intramural offerings, that involve more than 60 percent of Bates' approximately 1,700 students. His faculty appointment will be as lecturer in physical education.
McHugh succeeds Suzanne Coffey, Bates director of athletics from 1991 to 2006. Dana Mulholland, associate director of athletics at Bates, is serving as interim director during 2006–07.
"Kevin McHugh's interests, experiences and accomplishments fit the mission of Bates and the ideals of a liberal arts education well," said Vice President for Academic Affairs and Dean of the Faculty Jill N. Reich. "He is dedicated to the learning and health of his students, championing their academic and athletic accomplishments. He knows the rhythms of their day-to-day lives, he understands the complexity and varied demands they face, and he has demonstrated an outstanding ability to inspire and lead them to their greatest potential on the athletic field, in the classroom and throughout their lives."
At The College of New Jersey, McHugh is credited with transforming separate intramural, recreational and intercollegiate sports departments into a unified Department of Athletics, and positioning the college's recruitment efforts to successfully enroll a diverse array of student athletes. He has developed programs to acknowledge the academic accomplishments of his athletes, and during his tenure the college added women's soccer as a varsity sport and seen it become a premier program in NCAA Division III.
"I am honored, gratified and excited to have the opportunity to be the next director of athletics at Bates College," McHugh said. "Each visit to the campus further solidified my previous perceptions of the Bates community. My interactions with members of the search committee, the Department of Athletics and student athletes convinced me that Bates is a special place.
"I could not have felt more welcome, and I eagerly look forward to taking the reins of an athletic program that so positively reflects what is outstanding about Bates and whose excellence supports so well the educational mission of the College."
McHugh draws upon 29 years of administrative experience at three institutions. From 1979 to 1983, he served as an operations and facilities manager at Yale University, and then served as an assistant athletic director at Bowling Green State University. In addition to directing The College of New Jersey's athletic programs and student organizations, McHugh oversees a large summer-camp offering and the management of the college's athletic facilities complex, which has hosted numerous NCAA national championships.
A native of Wharton, N.J., McHugh earned his bachelor of arts degree in Latin American studies from Columbia University in 1978. A four-year varsity wrestler at Columbia, he was a two-time captain who twice earned All-Ivy honors at 134 pounds. He won 75 career matches, was named Columbia's Most Outstanding Wrestler his last two years and earned All-America honors from National Mat News.
McHugh earned his master of science degree in sport management from the University of Massachusetts, where he served as an assistant wrestling coach and junior varsity football coach. A former chair of the NCAA Division I Wrestling Committee, McHugh was inducted into the National Wrestling Coaches Association Division III Wrestling Hall of Fame as a contributor to the sport.
Active in NCAA governance, McHugh was elected vice chair of the NCAA Division III Management Council last winter, and will resign his council membership later this spring to focus on his new responsibilities at Bates. He has also served as a member of the NCAA Division III men's basketball committee. A member of the National Association of Collegiate Directors of Athletics executive committee, McHugh was named one of 25 regional NACDA Athletic Directors of the Year in 2004–05.
McHugh enjoys distance running and has completed 12 marathons, including the Boston, New York City and U.S. Marine Corps races.
Click here to see the current page for the athletic director at Bates.
View Comments